He might be strict in giving his students their final exams, putting huge puzzle mat pieces as barriers between and in front of everyone so they can't cheat, but teacher Floyd Calixton Tilendo is really soft-hearted towards his students whom he would treat to lechon and a fun-filled boodle fight after they took the test! Isn't that wonderful?
Sir Tilendo was featured in a 24 Oras segment on GMA News, with many netizens getting impressed by what he did for the students. The teacher used his own money to buy the lechon and other food items in the boodle fight, including chocolates as dessert!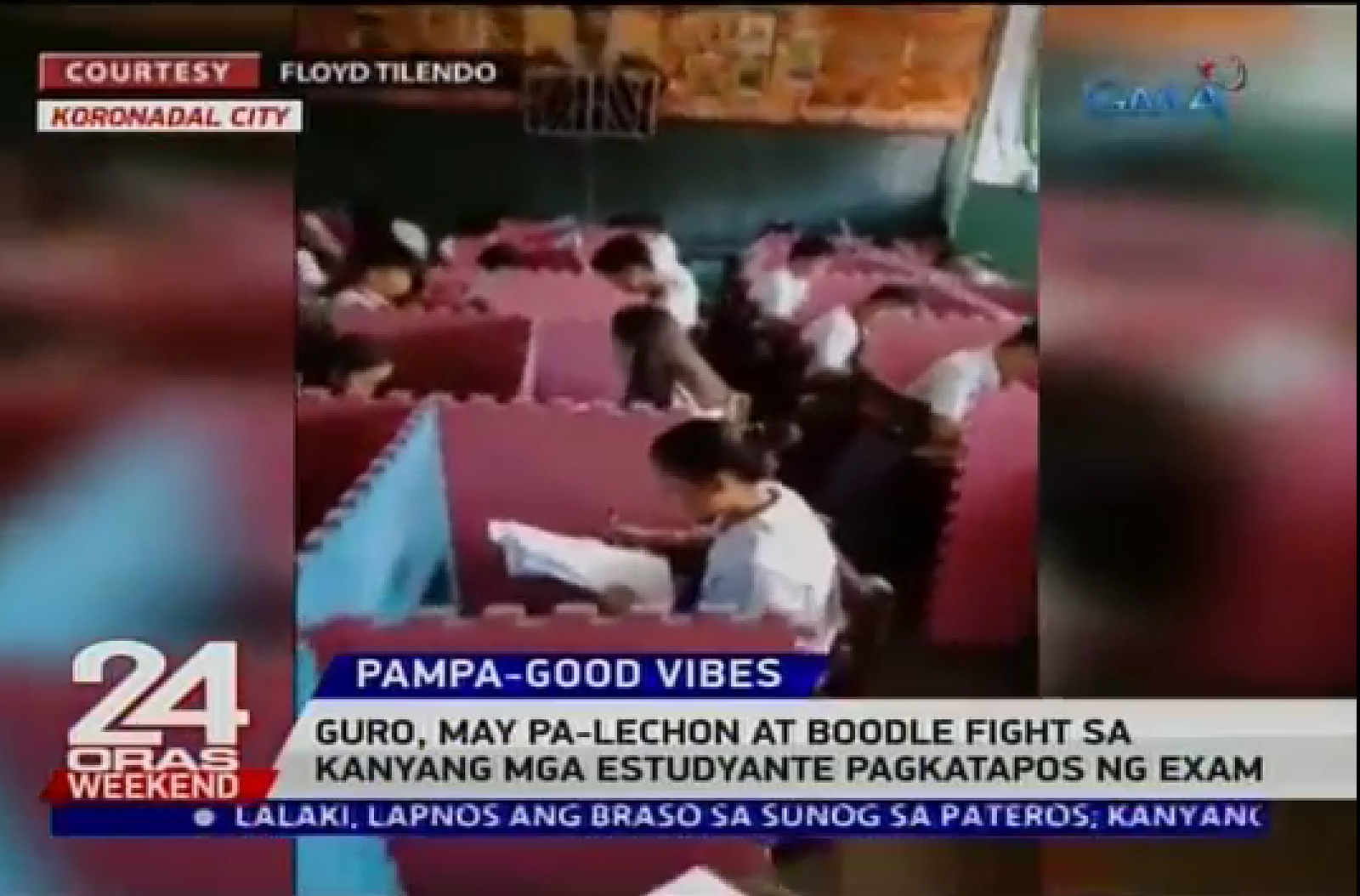 Photo credit: 24 Oras / YouTube
He told GMA News that he did this to motivate the students to study hard and focus on their studies because they will get a reward at the end.
Indeed, a lot of netizens felt impressed by what Sir Tilendo did; though many clearly wished they also had a teacher like him back when they were in school! You do agree, right?
Photo credit: 24 Oras / YouTube
Sir Tilendo teaches Grade 10 students at Koronadal National Comprehensive High School (KNCHS) in Koronadal City, South Cotabato.
Photo credit: 24 Oras / YouTube
While he had gone viral recently for the lechon and boodle fight treat for his students, it turned out this was not the first time he has done this to celebrate with the kids. This lucky class also got a boodle fight treat from him last August 2018.
Photo credit: 24 Oras / YouTube
It is unclear how high these students' marks might be, but it was clear that this teacher was happy enough with their performance this year to give them lechon after they completed their final exams.
Photo credit: 24 Oras / YouTube
Sir Tilendo is the adviser of Grade-10 SPS Pacquiao at KNCHS – and this is certainly one of the luckiest sections in this school, even the Philippines, yes?
Watch their story here: