A Japanese university hosted a futuristic event after robots were deployed to attend the graduation ceremony in behalf of the students who had to stay at their homes due to the COVID-19 pandemic. The impressive video taken at the event has gone viral, with netizens wishing that other schools were as 'high tech'.
Just like many schools and universities across the world, Business Breakthrough University (BBT) in Tokyo, Japan, had to cancel many of its activities amid the COVID-19 crisis. That included the graduation.
Photo credit: BBT University
Understanding that graduation is one of the most exciting, most fulfilling moments in a student's life, the school decided to still hold the event to honor the students' achievement. Since everyone is encouraged to stay at home, particularly students, the school used 'Newme' robots for the big event.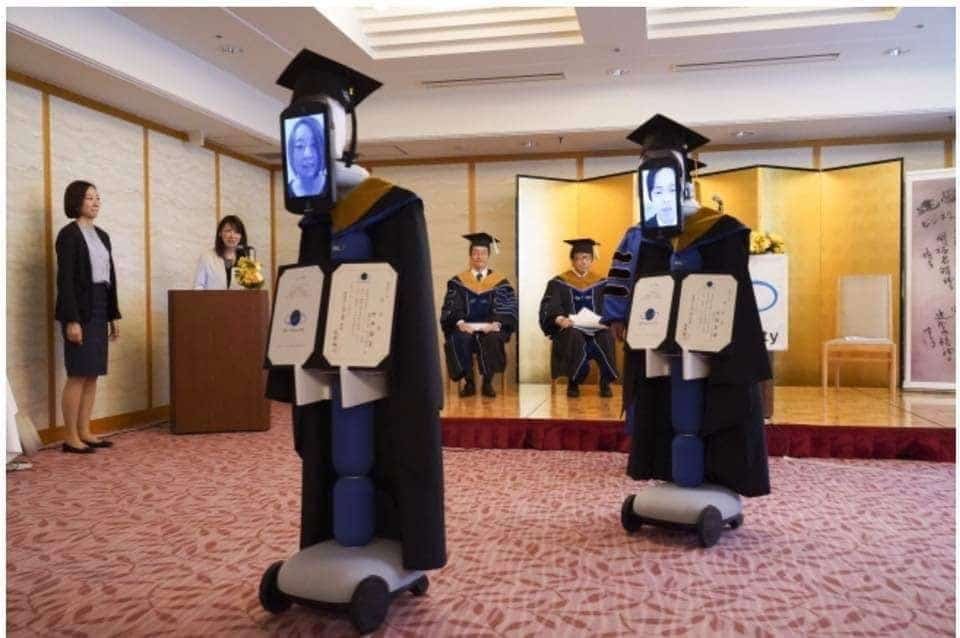 Photo credit: BBT University
The 'avatar' robots wore togas and caps. On the screen of iPads used as 'face' for the robots, students' faces were flashed on live video! Back in the comforts of their own homes, the student 'attended' the graduation while doing a live video – and their faces were flashed on the robot's iPad screens as they accepted their diplomas and posed with the school head.
Photo credit: BBT University
"We knew that there were lots of students who would like to attend the graduation ceremony but wouldn't be able to do so due to Coronavirus concern. I suddenly came up with an idea of Avatar Graduation Ceremony," explained Professor Shugo Yanaka, Dean of the Department of Global Management at BBT University.
He added that he wanted it to be like a "teleportation experience" for the students so that they would feel like they were really still attending the event in real life.
Photo credit: BBT University
The impressive robot-aided graduation earned praise from netizens. Check this out: