Teachers are one of the most crucial elements in nation building. They have this huge responsibility of molding students into future professionals and productive individuals for the country. It's a tough profession and one that is to be taken seriously, especially if you're planning to become one.
Despite the role we have to carry throughout our careers, teachers seemed to be "under appreciated" by our government considering the "not-so-competitive" salary we have as compared to our fellow teachers in foreign countries, at least in our own opinion. We hate to compare but we can't just ignore the truth.
On the positive note, our government is slowly making progress in seeing the value of its teachers. And to compensate all their hard work and sacrifices, the government provides benefits and incentives that DepEd teachers can enjoy throughout their careers.
Here are the list of benefits and incentives for DepEd teachers: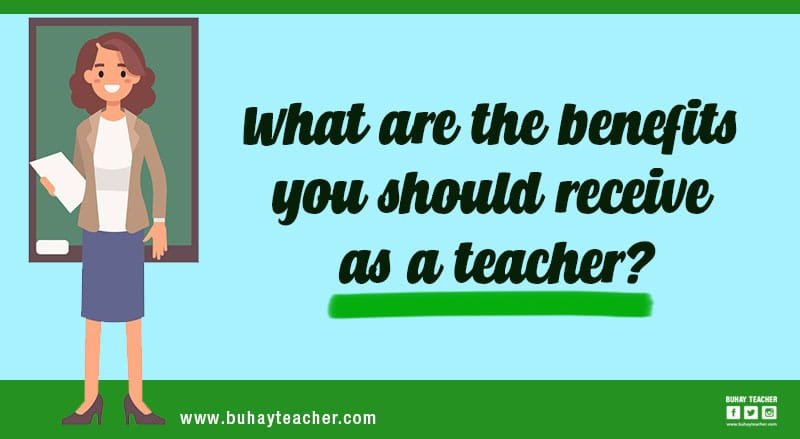 Yearly Benefits of DepEd Teachers
a. Clothing/Uniform Allowance – 6,000.00
b. Mid-year Bonus – One month basic salary
c. Year-end Bonus – One month basic salary
d. Cash Gift – 5,000.00
e. Productivity Enhancement Incentive (PEI) – 5,000.00/year
f. Anniversary Bonus – 3,000.00
g. Performance-Based Bonus – Ranges from 50-65% of the basic monthly salary depending on school performance
h. Proportional Vacation Pay (PVP) – 70 days PVP during summer and Christmas break for those who have rendered full services during the school year
i. Cash/Chalk Allowance – 3,500.00/year/teacher
---
Other Benefits and Incentives for DepEd Teachers
a. One step increment for every three (3) years of continuous satisfactory performance.
b. One or two (2) step increments due to meritorious performance using the Results-based Performance Management System (RPMS).
c. Loyalty Cash Incentive depending on the number of  years in service (starting on the 10th year amounting to Php 10,000.00 and Php 5,000.00 after every 5 years).
d. Special Hardship allowance to teachers assigned in hardship posts (cannot be reached by regular means of transportation through hiking or banca/motorcycle rides), mobile teachers and multi-grade teachers (15- 25% of basic salary).
e. Honoraria for teaching overload subject to funds availability.
f. Leave privileges (Maternity, paternity, study leave)
g. Additional incentive/allowances from LGU (selected divisions)
h. Vacation service credits (max of 15 days per year)
i. For mobile teachers, Php 2,000 per month for transportation allowance*
j. For mobile teachers and DALCs, Php 5,000.00 per year for instructional materials*
k. In-service training
*Program Support Fund
---
Social Security Benefits of DepEd Teachers
a. GSIS benefits
               i. Retirement and Life Insurance Premiums (RLIP)
b. PhilHealth Benefits (Hospitalization, Annual Physical Examination)
c. Employees Compensation Program (ECP) benefits
Source/Credits: DepEd-BHROD