Remember that Grade 4 kid from Donsol, Sorsogon who went viral for getting a "rejection letter" from a girl because he's too thin and doesn't eat vegetables?
READ: Grade 4 Student Goes Viral for 'Rejection Letter' to Suitor Who Doesn't Eat Vegetables
Well, Eman had the surprise of his life when no less than Heart Evangelista reached out to him and cheered him up with a box of goodies just in time for Valentine's Day! While he didn't get the girl of his dreams, he was still happy for Valentine's Day with the treats from Heart who happens to be the wife of Sorsogon governor Chiz Escudero.
Photo credit: Heart Evangelista / Twitter
The actress also sent a note to young Eman, cheering him up and telling him that he would eventually find his one true love in the future. After all, he's still so young and just in Grade 4!
"Happy Valentine's Day Eman ❤️❤️❤️ in time you will find your one true love!" Heart posted on her Twitter account.
She also shared a photo of the original "rejection letter" that the girl, named Danica, wrote for the kid.
"Awww so cute yet so heartbreaking. Saw this letter from a little girl rejecting the boy who has a crush on her. Okay lang yan, Eman. I love you!" she commented.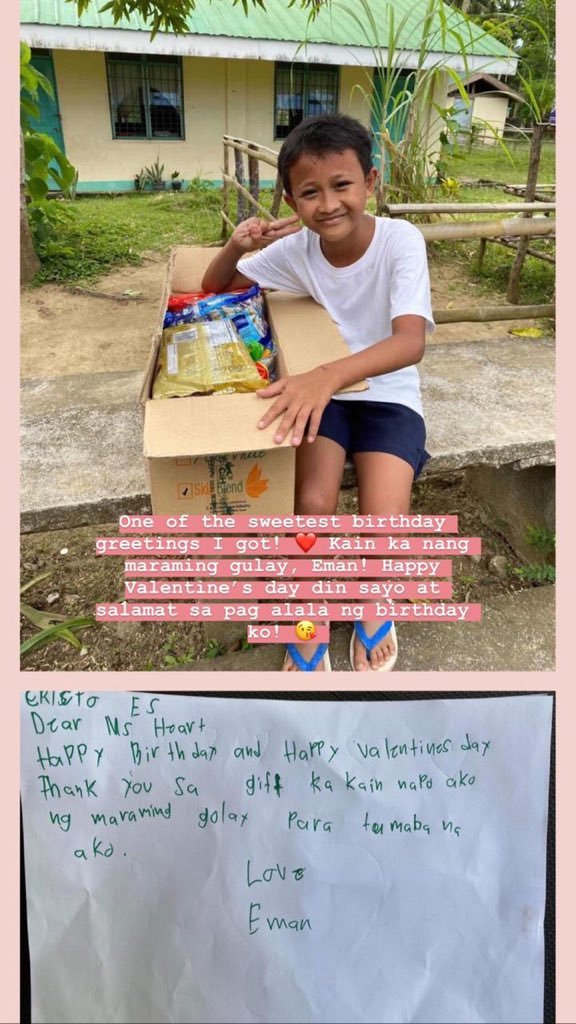 Photo credit: Heart Evangelista / Twitter
Since the actress was in Sorsogon to spend her birthday in her husband's hometown, she thought it best to also send this kid a box of goodies for Valentine's Day. He might not be so happy, particularly because the love/rejection letter went viral, but at least he is now smiling from ear to ear because of her special Valentine's Day gift.
The boy penned a letter back for Heart, greeting her a "Happy Birthday" and "Happy Valentine's Day". Eman also promised to eat a lot of vegetables from now on so he wouldn't be thin anymore. Cute.