In the Philippines, a good number of people live below the poverty line. Many of them don't have access to medicines and healthcare. In fact, many can't even eat three full meals a day!'
Makeshift Nebulizer
Suffering from emphysema, Tatay Eduardo Cadiente needs to use a nebulizer but because the family was too poor to afford one, they made a makeshift nebulizer using a bike pump.
Photo credit: Front Row / GMA Public Affairs – YouTube
Catherine Cadiente, 6, would playfully pump the medicine. Despite the difficulty, she continues to smile and pump, knowing she is making her father feel better. She understands the situation and knows that her dad needs her to do this so he could breathe.
The young girl would take turns with her elder brother, 8-year-old Eduardo Cadiente, Jr. The two would pump the medicine for their father to help him survive. There were times when they had to do this up to four times a day.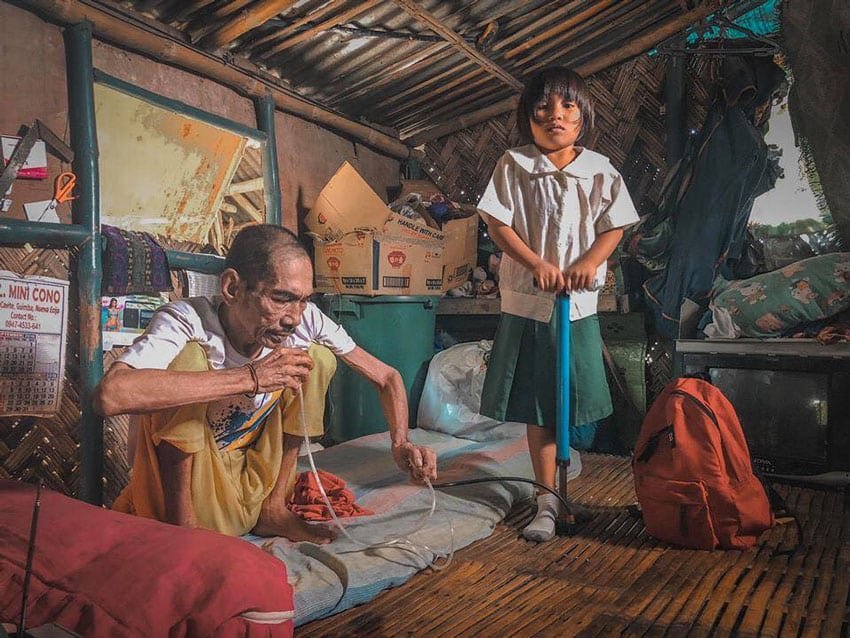 Photo credit: Eumer Yanga / Facebook – Ian Carlos Simbulan
Tatay Eduardo's wife, Noraida Cadiente, is the only working because he would only suffer more breathing difficulties if he forces himself to do anything physically demanding. Plus, he is more prone to infections; thus, he mostly stays at home while Nanay Noraida does the work.
Photo credit: Front Row / GMA Public Affairs – YouTube
At first, the family had been borrowing a nebulizer from the barangay hall, but would later be denied use of the medical equipment after being told they might 'lose' the item. So, Tatay Eduardo had to find a way to have the medicine delivered without the nebulizer, leading to the use of the bike pump.
Makeshift Medicines
What's worse, there were times when they could not afford to buy nebules. Nanay Noraida found a way to partially solve that problem by putting salt into a little bit of hot water. This is used instead of the nebule. Thankfully, it provides some relief for the sick man…
Photo credit: Front Row / GMA Public Affairs – YouTube
Watch their heartbreaking plight here: