In life, we might encounter a lot of hardships and challenges, but it really is up to us to rise up and find a way to overcome these trials. Of course, some people have it easy as they were born rich, while many are struggling to even find enough money to feed their kids.
Two brothers went viral for helping their parents earn money by selling sampaguita after school hours. But netizens were more impressed at how they managed to also make their homework and study their lessons while also juggling time to sell the sampaguita.
Identified as Marlon and Melvin Mendoza, the brothers sell sampaguita at the footbridge near two of the malls in QC North Triangle. They actually live with their mother under a bridge near their school in Brgy. San Antonio, Quezon City.
Photo credit: Anjo Bagaoisan / ABS-CBN News
The two station themselves at the walkway connecting Trinoma and SM North EDSA, taking the bus from Muñoz to North EDSA just to sell their sampaguita until midnight.
Asked why they would risk selling sampaguita up to that hour, the brothers admitted that they had no choice because they were too poor. They want to try their best to sell as many sampaguita as they could, so they could have money for food and school supplies.
The kids were reportedly studying at San Antonio Elementary School when the post went viral. Both of them expressed their wish to complete their studies because they enjoy studying.
Teachers Jinjem Nomong and Lilibeth Colot admitted that they had no idea the boys would go that far after school, just to sell sampaguita. They confirmed that the kids are quite enthusiastic in school; though there are times when they are absent.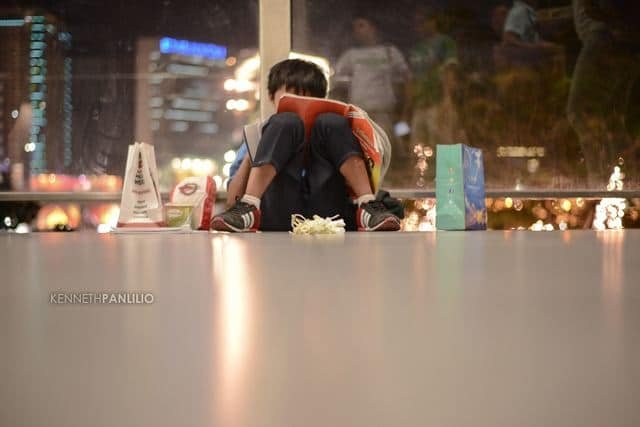 Photo credit: Kenneth Panlilio / Rappler
Knowing the kids are balancing their time between their studies and selling sampaguita, the teachers are hoping their parents would be the ones earning money for them. Yet the kids said their mother is also working hard to earn money and that they wanted to help.
"Hindi po ako napapagod, kasi gusto ko po talagang makatulong kay nanay para mayroon po kaming perang pangkain," one of the brothers shared.

"Ginugusto ko po ito para makatulong lang po."
What these kids are doing is against the Philippine child labor laws, but the kids are really just trying their best to help their mother because their dad is in jail. Kudos, kids! We definitely hope you will succeed in life.
Sources: Anjo Bagaoisan / ABS-CBN News