Netizens are having a good laugh over photos of a tired student who was sleeping with his dog in class. A lot of amused netizens are calling him as a 'batang ama', finding it sweet and funny that these two were sleeping even if they were in school.
Rein P Gabuya II shared the photo of this young student who brought his dog to school. The sweet puppy and his young master were too tired that they fell asleep even if the student was just sitting down at the armchair.
Feeling cozy on his young master's lap, this adorable dog was also fast asleep! And while everyone is laughing at them both, many are also saying that they do many an adorable pair – the 'batang ama' and his sweet little baby dog.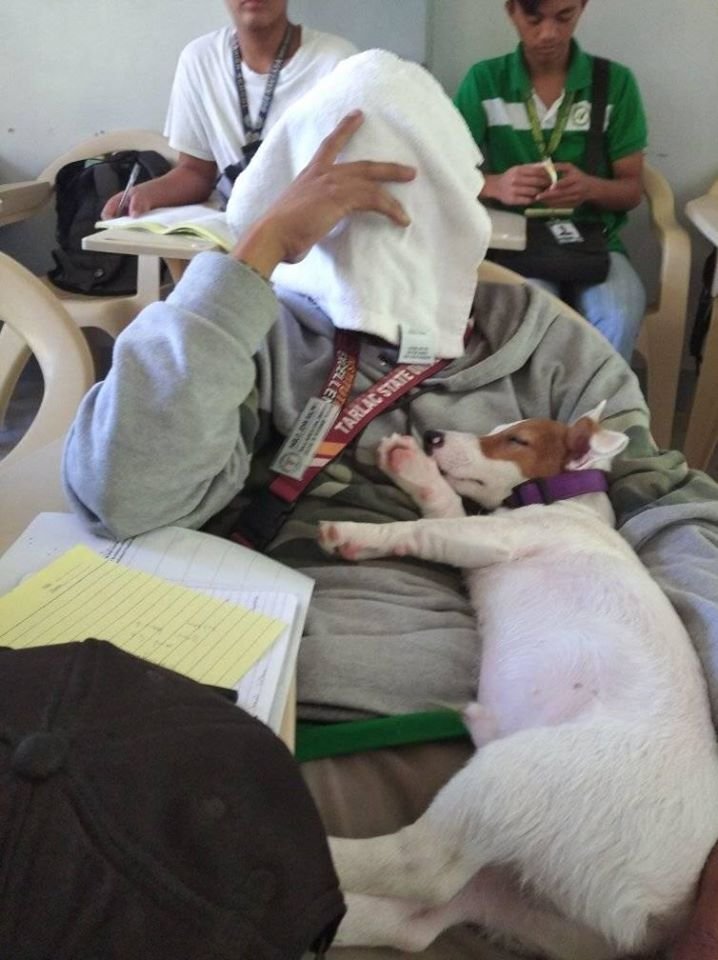 Photo credit: Rein P Gabuya II / Facebook
According to his ID tag, this young man is studying at Tarlac State University in Tarlac City, Tarlac. There were various notes, yellow pad papers, and books scattered on the table part of his armchair. It was obvious that this young student and his dog had fallen asleep in the middle of the class!
We aren't sure about the teacher's reaction, but we sure hope they both didn't get into trouble.
Many netizens are worried that the young student might not be allowed to bring his dog next time; while others think he is simply bringing his dog to school because they are the best of friends and there's no one at home to take care of the animal.
Would you also bring your dog to school? That's great! But make sure to check with your school's rules about bringing pets – and get enough sleep at home so you wouldn't be like this 'batang ama' caught sleeping in class! LOL.