A teacher recently went viral for the timely "hugot line" that he used to remind his students not to cheat on their exams! And a lot of netizens could not help but comment on the reminder, saying that it is something that everyone should always keep in mind – both for exams and in real life love situations!
"BE HONEST," the teacher reminded his class, before adding, "Dahil and EXAM parang LOVE; tama ka na sana pero TUMINGIN ka pa sa iba!" Ouch.
The post got a lot of netizens laughing, with many saying that the teacher was correct. Indeed, there are many times when students had the right answer but erased it and picked the wrong one after seeing a classmate's work. But getting confused over the right answer and doubting your original choice is something that, as the teacher suggests, is a common experience in love as well.
For both love and exams, there are times when people make mistakes after checking out others. Do you agree?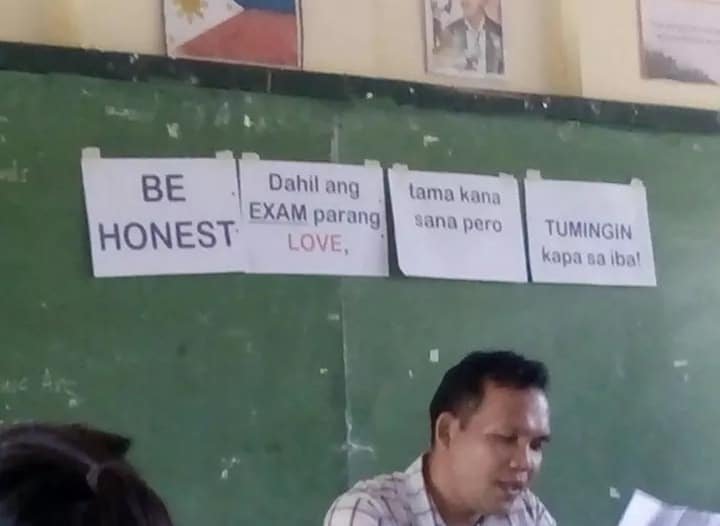 Photo credit: Mga Hugot ni Tom Sawyer / Facebook
"Haha, lakas maka konsensya niyan haha," one netizen readily agreed.
"Kung nahihirapan ka sa exam at di mo alam ang issagot, pagmamahal ang isagot mo, dahil kahit kailan hindi naging mali ang magmahal," another joked.
But other netizens have the perfect retort to the teacher's "hugot line".
"Hndi ko nakita yung tama sa kanya eh kaya tumingin ako sa iba," one netizen wrote. But someone countered that the guy was wrong because the first choice might have been the right one, yet he thought he made a mistake after checking out another option.
"Hindi masamang tumingin sa iba, ang masama dun pag niligawan mo talaga," another countered. A number of netizens agreed.
So, which side are you on? LOL.