A teacher was left in tears after his students surprised him with a brand-new pair of shoes upon learning that someone took his shoes from the classroom. Their act of kindness quickly went viral, with the videos getting millions of views!
The basketball shoes of Logan Fontenelle Middle School teacher Trey Payne of Bellevue, Nebraska, were taken from his classroom by a still unknown person, according to a Facebook post from Bellevue Public Schools.
The teacher was upset over the stolen shoes but can't do anything much about it. Reports did not indicate whether there's a CCTV outside his office; but what's clear is that the culprit has not been apprehended yet.
Knowing how sad their teacher is about losing his shoes, the students decided to surprise him with a new pair! With the help of another teacher, the students pooled their money to buy their beloved teacher a new pair – and they decided to surprise him in school with the gift.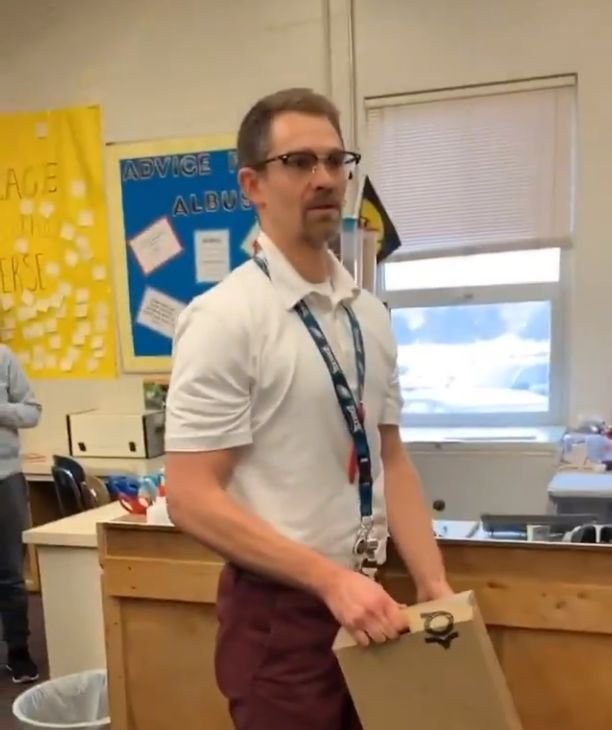 "The students pooled their money together and bought their teacher a brand-new pair to replace the ones that were stolen. The students said they were upset that it happened and wanted to help," wrote the Bellevue Public Schools in their Facebook announcement.
"An amazing act of kindness Logan Fontenelle! Way to go…Emma Mitchell, Carlo Kemper, Miguel Caceres, Elicia Fenner, Ka'Maiya Hunt, Jacob Perrin, Mia McVay, Braylen Hurley, Colin Osborn, Therese Chandler, Michaela Miller, Pressly Schoenherr, Cyrus Cheshier and teacher Mr. Rob Lavalleur."
Placing the box with the shoes inside a gift bag, the students surprised their teacher with the gift in class. They decided to take a video as they urged him to read the gift tag first before opening the bag.
"You're all making me nervous," Mr. Payne could be heard telling his class in the video. They laughed even as they encouraged him to read the gift tag and open the bag.
Seeing the box of shoes, he cried out, "Are you serious?" He shook his head in disbelief as the class happily replied, "Yes!"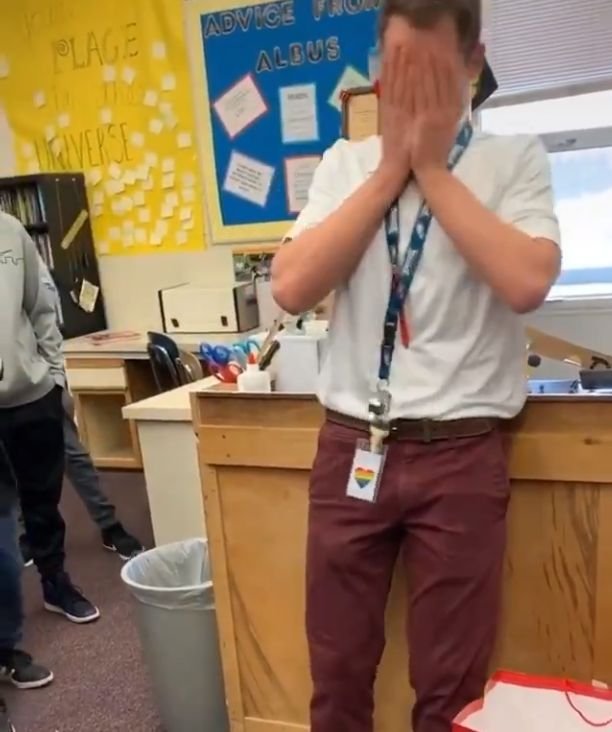 Tears filled this teacher's eyes as he realized how much his students love him – and they all rushed to give him a big group hug.
"It's more than a pair of shoes, it's about doing things to build everyone up around you. I try to show my kids this and I think the lesson has sunk in for many, in turn, reaffirming my purpose and my ideals," Mr. Payne said.
Here's a video from the sweet moment:
my favorite teacher mr. payne got his shoes stolen, so me and a few classmates put together our money and bought him a brand new pair! #bps #bekind @RippeJeff pic.twitter.com/NRQ6fX0JhI

— Emma Mitchell (@EmmaxMitchell) January 28, 2020