Keeping kids motivated and excited to study is a big challenge that most teachers face today, what with the many distractions that the students are exposed to each day. Why study when playing with their phones is more fun or the TV always has plenty of exciting shows to watch?
Aside from constantly reminding them about studying and getting good grades, other teachers find a way to motivate their children to study by providing them rewards. One of these teachers, Lemuel F. Java, prepares gifts for his honor students each grading period.
The Grade 9 Values Education teacher of Ramon Torres National High School in Bago City, Negros Occidental, has been doing this since he became a teacher. Though this puts a dent on his wallet as he personally pays for the certificates and gifts, this impressive teacher knows that such is but a little sacrifice for the greater good.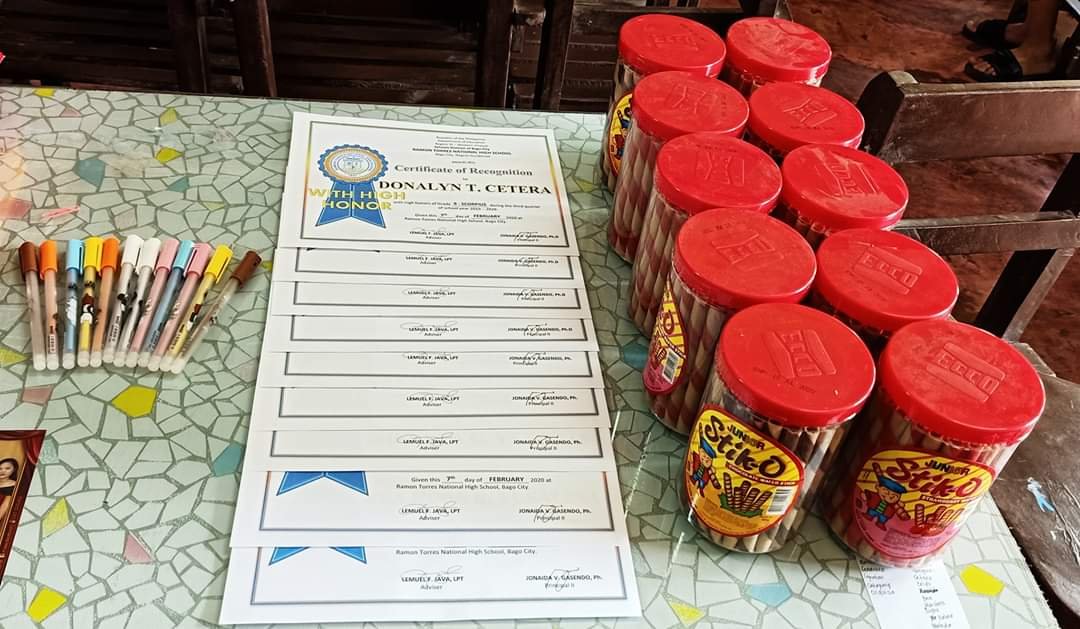 Photo credit: Lemuel F. Java / Facebook
Teacher Lemuel wants his students to feel that their efforts are greatly appreciated, and that learning can be fun, especially because they can get rewards for doing well in school! So, each grading period, he creates a certificate of recognition for each honor student, and also buys them a gift.
"Simple treats for my 3rd grading list of students with honors. Congratulations. #SanaAll," Teacher Lemuel wrote.
He shared photos of his treats for the students: one pack of chocolate wafer sticks and some colored ballpens with cute designs. They also held a simple recognition program where the parents of the honor students were invited.
Photo credit: Lemuel F. Java / Facebook
And while the teacher apologized to his students for the simple gifts he gave them, many netizens are impressed that he prepared these gifts as recognition of their efforts and to motivated everyone to do better.
"I just want to make them feel appreciated sa mga efforts nila. In my own little way masarap din sa feeling na na aappreciate din nila yung binibigay ko. Since nag start ako sa aking teaching profession, yes lagi ko na to ginagawa sa advisory ko na nakakakuha ng honor," Teacher Lemuel told The Summit Express.