'Sack race' is one of the most popular Pinoy games. It is played by two teams, with each team given one sack. The usual rule is that one person gets inside the sack and races with the opponent around a marker. Whoever arrives at the finish line first wins the game. There are other variations to the game, such as several people being inside one big sack.
But one student made his own twist to the classic game when he won the game in a hilarious manner. John Rhiel Pedoche is a student of Cebu Normal University in Cebu City, central Philippines.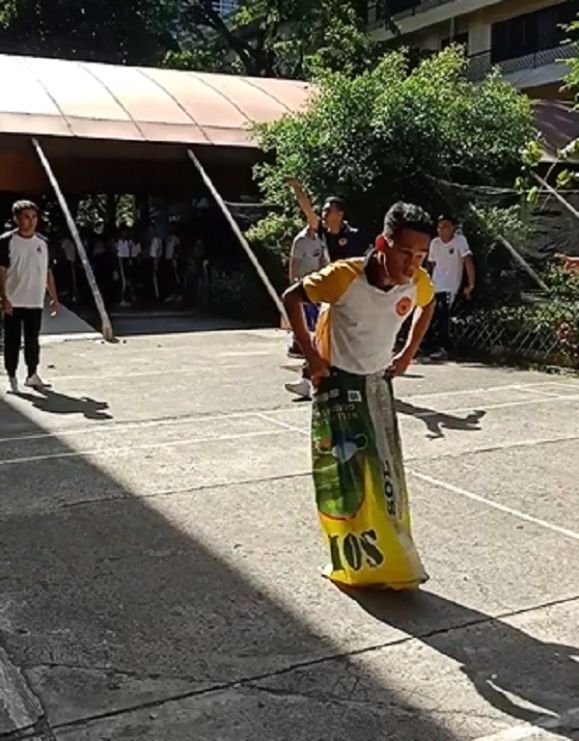 Photo credit: Leanne Marie / Facebook
The second year Bachelor of Physical Education student was playing sack race with his classmates for their Traditional Games class when he surprised everyone by doing cartwheels from the market, up to the finish line! Wow.
According to video uploader Leanne Marie, the class was having a lesson on different 'Laro ng Lahi' or indigenous games of the Philippines. Part of their performance task and practical exam is doing an actual sack race.
Photo credit: Leanne Marie / Facebook
But the competition took a hilarious, exciting turn when Pedoche did some cartwheels – and won the match! It is unknown whether his team won the entire match, but that was not important to netizens who were just so amused by his antics.
Pedoche had actually jumped in the sack in an ordinary manner from the starting line to the turning point marker that everyone did not expect he would do the cartwheels. The move was actually risky, considering that he could lose the sack as he did the cartwheels or trip on his feet as the sack touches the ground.
Photo credit: Leanne Marie / Facebook
But he took the risk and won the game – and went viral! That's one goofy way to win the match, huh?
Here's the funny video:
Sack race ba hanap nyo? HAHAHAHAHAHHAAHHAAHHAHAHA pamugasay maning styla 😂

Posted by Leanne Marie on Tuesday, 25 February 2020