For Christmas season, a SPED teacher posted gift wrappers with drawings made by students with special needs. At just Php10 each, the wrappers were quickly sold out! Many netizens were happy to support the project, with many encouraging the teacher to also offer gift wrappers that can be used all year round for other types of gifts.
"Hello. Help a SPED teacher hahahah We're selling gift wrappers designed by our students with special needs 🙂 each design is just 10 pesos. Will tweet the individual design in this," wrote Teacher Ivie Pauline (@ivienapiza) in a tweet that would quickly go viral.
The designs were created by students at Independent Living Learning Center. The designs are simple and so cute that the wrappers were quickly sold out!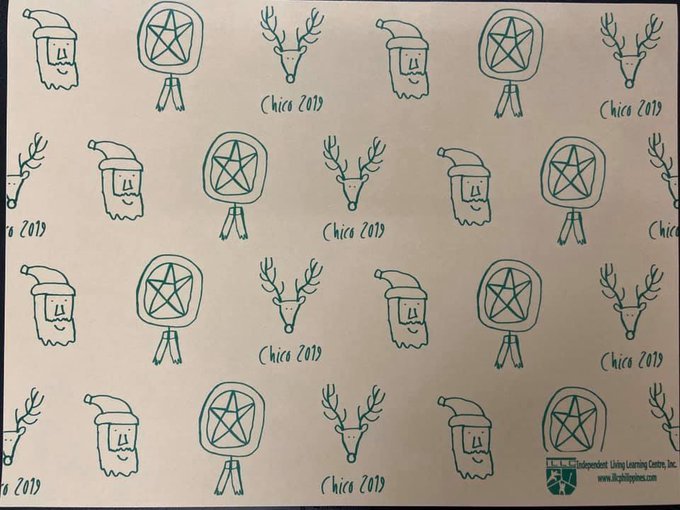 Each of the wrappers are in size 24 inches x 17 inches – perfect for gift wrapping. There are several designs to choose from, each made by a young artist at Independent Living Learning Center. One of the wrappers showed carolers singing Christmas melodies while another showed a snowman outside a small but beautiful home.
Another design features Christmas symbols like Santa Claus, reindeer, a snowman, and a Christmas tree.
One features the nativity scene.
Another crowd favorite is the Filipino Christmas celebration wrapper that features a lechon and other Pinoy Christmas symbols.
The beautiful wrappers might have sold out quickly but netizens are hoping that the school would produce more gift wrappers made with art by the students. Others are also hoping that the teacher will also offer other art products the students might have completed so they can also support the kids by buying these items.
Meanwhile, some budding artists also messaged the teacher for help in selling their own art for a cause – and she happily shared their post. What a great way to spread love on the internet…
Hellooooo help a SPED teacher hahahah we're selling gift wrappers designed by our students with special needs 🙂 each design is just 10 pesos. Will tweet the individual design in this thread ty ty ❤️ pic.twitter.com/RUHvDRsqRO

— Ivie Pauline (@ivienapiza) November 12, 2019