A security guard has gone viral after becoming a teacher to street kids, helping them learn how to read and write! His kind deed earned praise from netizens who were amazed that he would go out of his way to help these kids, even if they are not related to him at all.
Netizen John Robert Flores was just passing by the Palawan Pawnshop near Arellano University in Manila when he and his friends noticed the security guard busy teaching some street kids lessons. According to Flores, there were several street kids receiving instruction from the security guard but he only managed to take a picture the time there was only one boy.
Photo credit: John Robert Flores / Facebook
"Sa totoo lang po hindi lang po isa 'yung tinuturuan niya, na spot namin lima pa sila pero isa lang 'yung na-take naming photo," said Flores.
While it might not be a big deal to many, Flores admired the security guard for doing these to the street kids. This is especially considering that most street kids don't really have a chance to go to school due to poverty.
The security guard was later identified as Renz Abelita.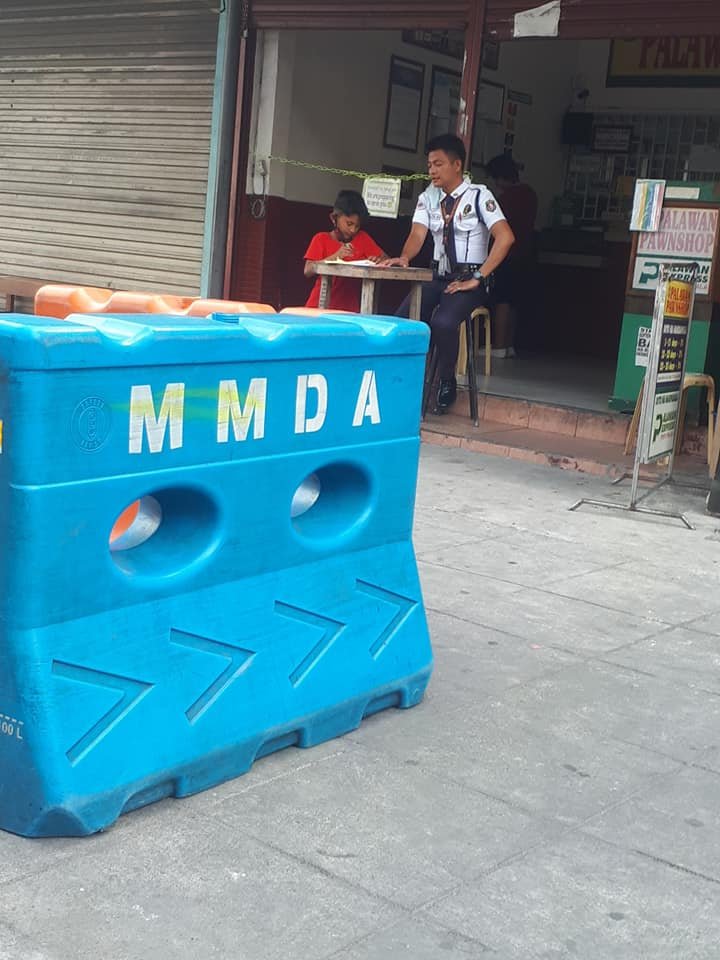 Photo credit: John Robert Flores / Facebook
"Nakakaproud lang kasi kahit di nya kaano-ano but still tinuruan nya parin kasi may busilak siyang puso ❤. I salute you kuyang SG sana patuloy ka parin bigyan ng blessings ni Lord dahil sa mabuting at busilak kang puso para matulungan ang batang yan," Flores wrote as he shared the pictures of the kind security guard.
The post added fuel to the debate regarding the distance learning and online school that the Department of Education (DepEd) wants to implement in the country this school year.
Some netizens think that this is the perfect example why the DepEd should not push through the plan. After all, a lot of families in the Philippines are poor and could not afford to buy gadgets for online learning.
Photo credit: John Robert Flores / Facebook
Yet others also pointed out that this is the perfect example that anyone can be a teacher and help their kids learn, even when schools are closed and students have to study from home…