These days, a lot of teachers expect their students to have access to the internet and give them homework that need to be completed using the world wide web. After all, a lot of students do have cellphones and even if they had none, lots of internet shops are also available for them to rent a PC for a couple of minutes to do their assignment.
Sadly, though, not everyone has access to the internet and a lot don't even have the money to go to an internet shop. But one kid found a way to make his homework even if he had no internet at home – by going to a cellphone shop at a mall near his home!
This wise kid would go viral as he worked on his assignment inside a Samsung outlet, using the store's display kiosk. Apparently, the kid had been using his cellphone outside the store, connecting to the outlet's wifi to make his assignment when an employee spotted him and invited him inside to use the much bigger tablets.
There's always a glimmer of hope in humanity… This store lets this kid come in & do his homework every day because he has no internet or computer at home

Posted by Rafael Martinez Jr. on Wednesday, 1 January 2020
With his bag slung over his shoulder, the boy quietly worked on his homework while standing up beside that display kiosk. Someone admired his diligence and took a video which would soon go viral on various social media channels.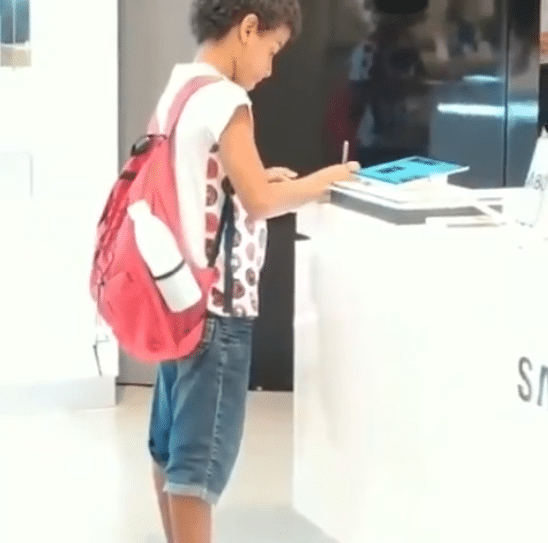 While very little details were shared on the video, it would soon go viral and the kid finally identified as 10-year-old Guilherme Santiago who studies at Abilio Gomes Municipal School in Recife, Brazil.
Soon after his story went viral, a representative from Samsung gifted Guilherme with three tablets and a computer he could use for school! He also received scholarship from the company! What great news for a young man who is clearly determined to do well in school.