Kids can be so funny even if they don't go out of their way to make you laugh. Take for example one kid who made the most hilarious mistake in answering the quiz questions his teacher made. The mistake is gold! The funny answers drew laughs from netizens.
Armand Vincent Sese shared a photo of his niece's quiz with the glaring mistake. But netizens had so much fun over the wrong answers that the post actually got over 81k shares and more than 70k reactions!
Stock photo by Pixabay.
In the post, Armand shared a photo of the exam section where his Grade 2 niece made a hilarious mistake. The quiz portion had five choices given in separate boxes. It was obvious that the kid also used these boxes as guide in answering the quiz; thus, when she made the mistake in the fourth item, the last turned out to be a mistake as well.
"So we can't stop laughing because of the answers of my grade 2 pamangkin in one of her tests. 😂 Bb. Jocelyn is shookt," shared Armand.
Some netizens suggested that Bb. Jocelyn give this kid plus points for creativity. LOL.
"Mahilig kumain ng saging ang mga _________ sa gubat."
The answer to that question was obviously 'unggoy', based on the choices given. But perhaps the kid experienced a mental block or has seen her teacher eating bananas. She probably saw the word 'saging' and simply thought about her teacher, leading to the wrong answer. But the mistake was already quite hilarious!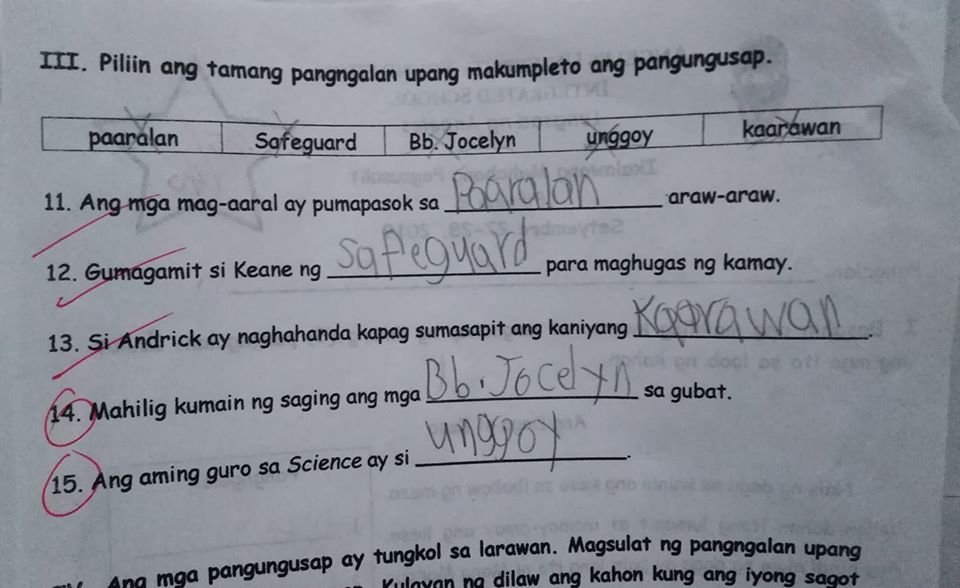 Photo credit: Armand Vincent Sese / Facebook
The next question and the kid's answer 'confirmed' the teacher's monkey identity, making netizens laugh.
"Ang aming guro sa Science ay si ____________."
This portion would have been 'Bb. Jocelyn' but because she had already marked that with an 'x', the remaining option is 'unggoy'. LOL.
The student's answers brought good cheer to the internet.
"Yung nangopya ka tapos sa ibang number mo nailagay yung sagot. 💪" one netizen joked.

"Hahaha. Well played, kid! Kung ako teacher, bigyan ko ng star for logic and creavity," another added.