"Are we producing employable graduates?" questioned Senator Sherwin Gatchalian who feels worried about the 'deteriorating competence of teachers and students all over the Philippines.
Others are also feeling worried that the K-12 graduates won't be able to find a job after graduation because most employers still prefer college graduates or at least the ones who were able to study for around 2 years.
If you're among those worried fellows, here's good news! Several airlines actually accept graduates of the K-12 program; that is, senior high graduates or those who completed the full Kinder to Grade 12 program.
Photo credit: Orbitz
In a Facebook post by Becoming a Flight Attendant Philippines, it was revealed that several airlines are accepting applications who are K-12 graduates. These airlines include the following:
Air Asia Philippines
Cebu Pacific
Oman Air
Qatar Airways
Saudi Airlines
Saudi Gulf Airlines
Filipino applicants who graduated from senior high school could apply for a job as cabin crew or flight attendant in these airlines as long as they pass the other requirements.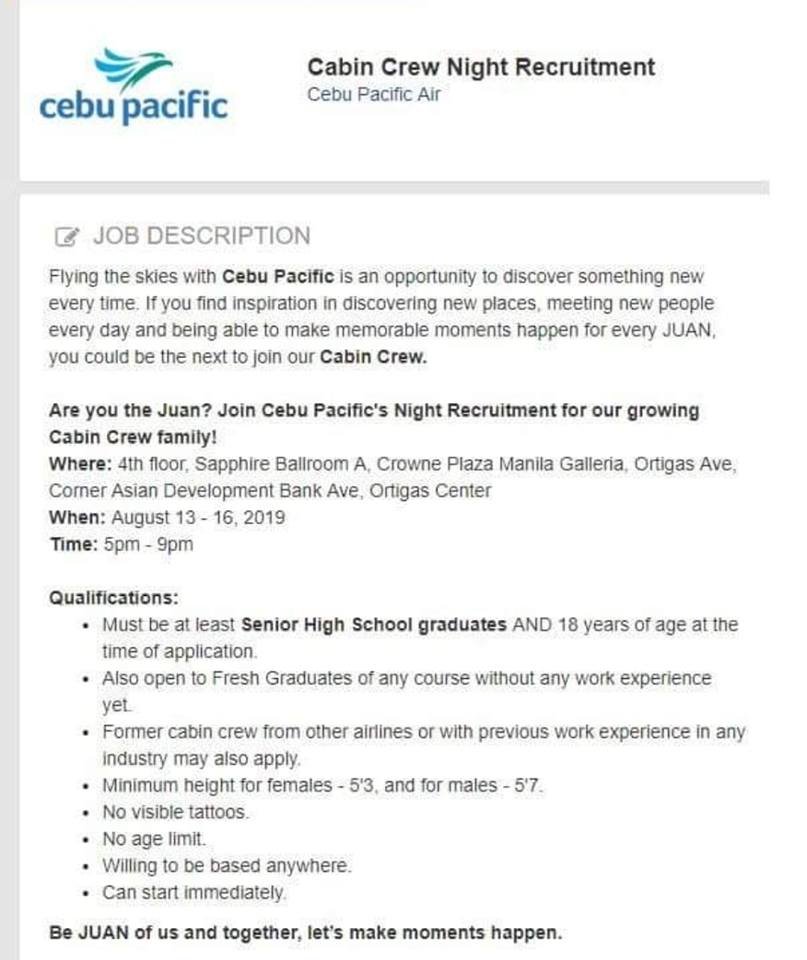 Photo credit: Becoming A Flight Attendant Workshop / Facebook
As expected, applicants should have 'pleasing personality' which is really equivalent to a 'good-looking face'. In the post, it was also pointed out that the weight must be proportional to the height; however, other netizens commented that this part should clarify that the applicant must not be overweight as the cabin crew are expected to be fit and trim.
Depending on training and work experience, a cabin crew or flight attendant could earn a salary ranging from Php18,000 to Php26,000 for entry level positions. This could go as high as Php36,000 to Php54,000, based on data from the Department of Labor and Employment (DOLE).
Photo credit: Philippine Airlines
Ironically, while several local and international airlines already receive Pinoy K-12 graduates, the flag carrier Philippine Airlines only accepts graduates of a 4-year course. However, many are hopeful that the airline will change its requirements soon to accommodate senior high school graduates, too.