Stuck at home with no chance of experiencing his much awaited "Moving Up Ceremony", one kid was able to enjoy the moment after his family staged their own ceremony, complete with awards!
It happened at the yard of the family home in Apalit, Pampanga. Since they are part of the enhanced community quarantine (ECQ) that Pres. Rodrigo Duterte imposed across Metro Manila and Luzon, Azrael Tuazon did not get to participate in a "Moving Up Ceremony" at the local day care center where he went to last school year.
Photo credit: Femy Jean Tuazon / Facebook
Since the kid was already so excited to attend the program, his family decided to hold their own "Moving Up Ceremony" at their yard.
What's so nice about the family is that they also made an effort to create a 'stage;' for the ceremony – and even placed a blanket or curtain as backdrop, similar to that placed on stage at school events. However, they did not put letters on the backdrop to announce the event. Still, it was already nice enough for the kid.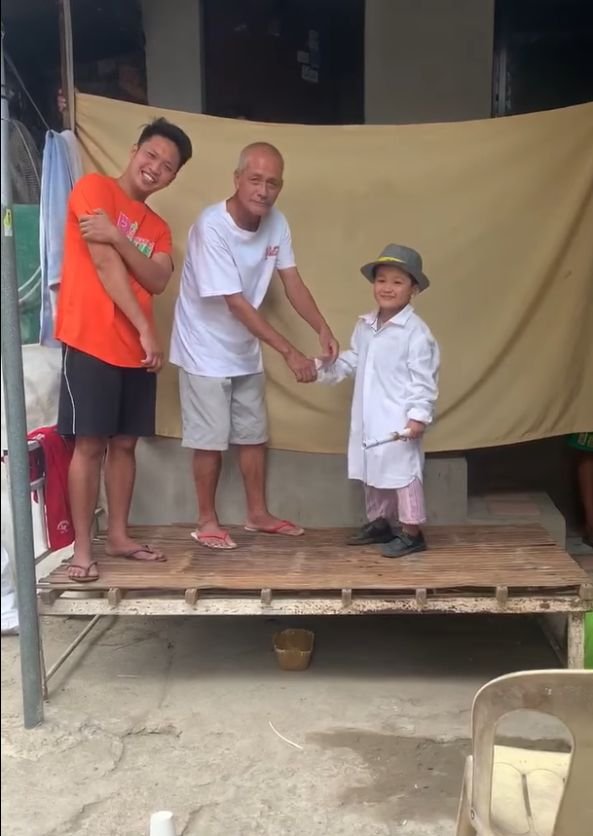 Photo credit: Femy Jean Tuazon / Facebook
"Yung excited s'ya sa graduation n'ya, pero cancelled dahil sa COVID-19. DIY moving-up," shared Femy Jean Tuazon, Azrael's aunt.
They even dressed up Azrael in a makeshift toga made from someone's long-sleeved shirt. He also wore a hat and put his school shoes on. The kid actually loved the setup!
Photo credit: Femy Jean Tuazon / Facebook
He patiently sat on the chair in front of the stage throughout the 'program' before later receiving his rolled up 'diploma'. The 'graduation march' plays in the background as he diligently walked up the 'stage' to receive his diploma after his name was called. Cute!
Of course, a "Moving Up Ceremony" is not complete without the awards ceremony portion. So, his family gave him some awards to make him happy – but the awards that Azrael got are just so hilarious. The kid received the award as "Best in Recess". But he also got the Best in Kaya Mo Na 'Yan", "Best in Ikaw na Gumawa", and "Best in Tahimik Star". LOL.
Photo credit: Femy Jean Tuazon / Facebook
They even gave him a medal.
Check out the cute video here:
https://www.facebook.com/100000922840974/videos/3819741444733246/