He thought it was the unluckiest day of his life but as he cried in front of the policeman who caught him for a traffic violation, a working student did not get a ticket. Instead, he received a wonderful surprise from the policeman who admired him for being hardworking and trying to support himself…
Joshua Basa, 21, works as a GrabFood/Express rider to support himself. While on his way to Sta. Mesa to pick up an order, he made the mistake of switching lanes despite the barricades because he saw another rider doing the same thing ahead of him.
Photo credit: Joshua Basa / Facebook
This earned him the ire of the policeman assigned to that lane, later identified as PCPL Jonjon Nacino. Angry over the blatant disobedience, the policeman lectured the young man that he should follow the rules.
Basa kept asking forgiveness, fearful that he would get a ticket. In these difficult times, every bit of money counts – and he had already been experiencing a lot of trouble that day. Getting caught at the checkpoint is really the last straw. The young man broke down in tears in front of the policeman.
Photo credit: Joshua Basa / Facebook
He explained that he's a working student who was only able to buy a motorcycle out of necessity because he lives in Tondo but studies in Pasay and also has to work at Shakey's. With classes being canceled, he works for Grab.
Instead of giving him a ticket, however, the policeman handed him some money.
"Tanggapin mo na. Tulong ko sayo yan, gusto ko magtapos ka ha! Ipangako mo sa 'kin!" the policeman told him.
Basa was so relieved that it wasn't a ticket that he didn't even check the cash. He wasn't also able to take a picture with the policeman or ask his name. it was only later that he saw that the policeman had given him $100 (Php5,000)!
Photo credit: Joshua Basa / Facebook
After posting the story, the policeman messaged him.
Basa went back to the checkpoint the following day to bring food but Nacino declined the offer, telling him to bring the food back to his family.
"Naawa po ako noong time na 'yun, lalo na sinabi niya na working student siya. 'Pag meron ka i-share mo. Para kapag ang tao naman ang tinulungan mo, umasenso rin, makatulong din siya sa ibang kapwa," Nacino told reporters after he was asked why he gave Basa that big amount of money.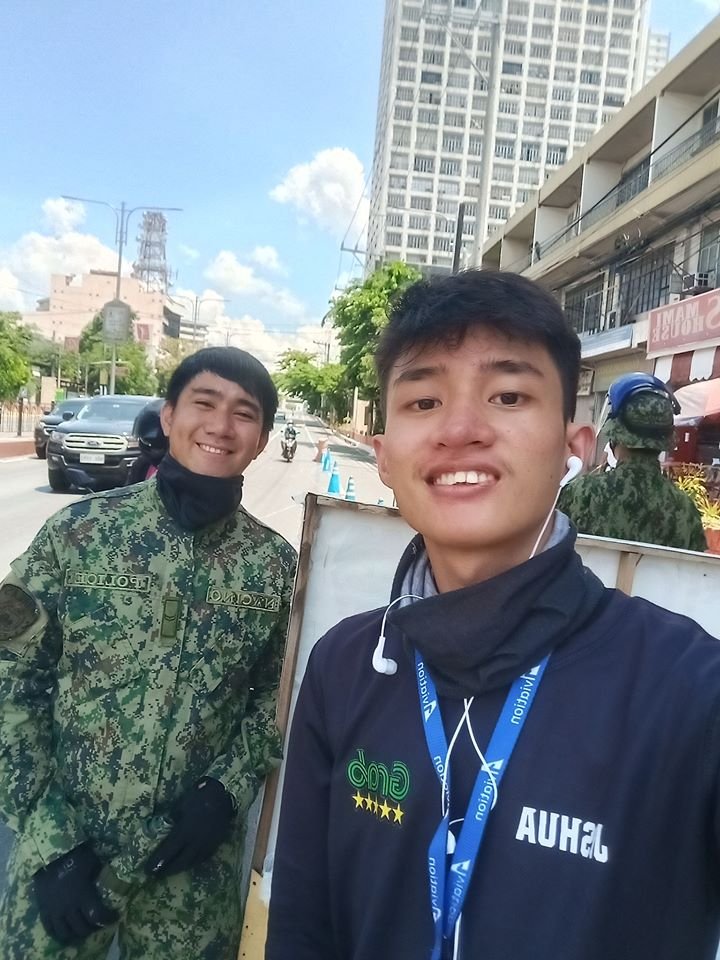 Photo credit: Joshua Basa / Facebook
It turned out he had Php1,000 in his wallet but still chose to give the young man the bigger amount instead. He also encouraged Basa to work hard to earn a degree.
"Iba pa rin po 'pag may degree ka kasi dito sa atin sa Pilipinas, mas hinahangaan 'yung mga taong nakapagtapos," he advised.
Watch the inspiring story here: