Many of us take things like pencils with erasers for granted, but for one poverty-stricken kid in Tarlac, he just could not afford to buy an eraser; so, he uses his slippers to correct his mistakes, instead. The boy's sad plight broke netizens' hearts.
Harold Lumpong studies at Engracio M Castañeda Elementary School in La Paz, Tarlac.
Photo credit: SAKSI / GMA News
The grade school student might be poor, but he knows how to find a way to solve his problem about the eraser. Instead of complaining, this young boy simply used his slipper as eraser. He even put it on top of his armchair so he wouldn't have to always reach down to take it off if he makes a mistake.
Photo credit: SAKSI / GMA News
The young boy's heartbreaking plight went viral, with netizens praising this kid for finding a way to solve his situation. Many were also impressed to learn that he tries his best to go to school even if he doesn't have enough school supplies.
Harold's teacher, Rosalie Dela Cruz, revealed that he was not the only struggling with the lack of school supplies. Like Harold, most of the class don't have pencils and erasers. Sometimes, Harold's slipper gets passed around for the other kids to use as eraser – and it is actually quite effective in erasing pencil marks on paper!
Photo credit: SAKSI / GMA News
Many of the kids in his class can't also buy paper and all the notebooks they need for all their subjects.
But what's really sad is that these kids are not the only ones experiencing this. In fact, millions of children across the Philippines are just like them, struggling to buy even the most basic of school supplies – and many teachers often have to spend their own money to provide their students with paper and pencils so they can have something to use in school…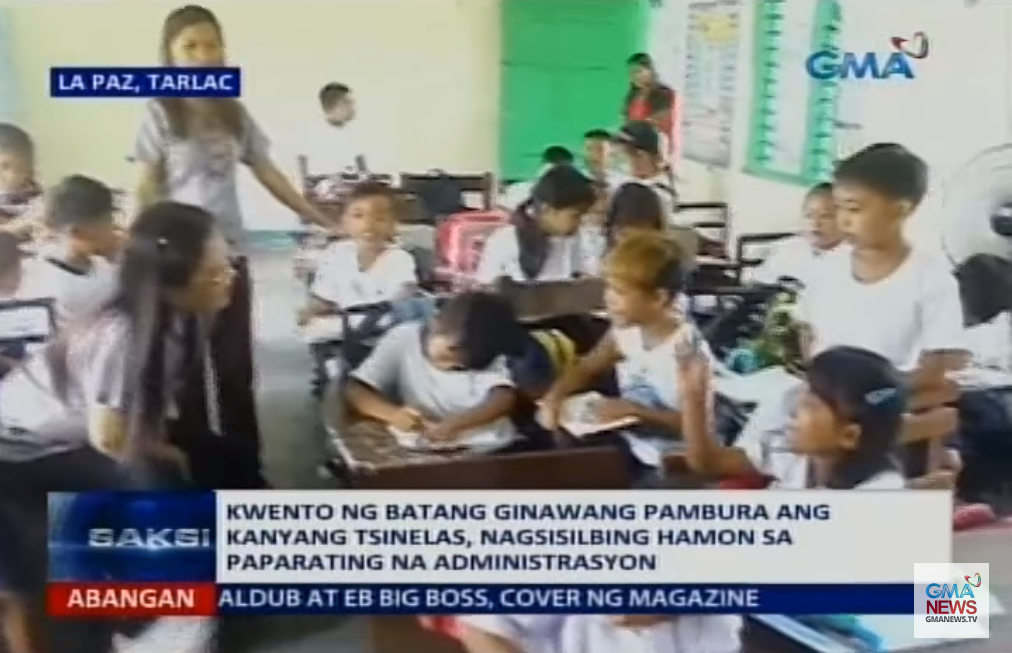 Photo credit: SAKSI / GMA News
Watch the report on Harold in this video: