While there are many students who go through ballpens and pencils like these are just disposable stuff, there are also plenty of students who struggle to make ends meet and have to cope with things that are available for them.
Recently, a young boy from Samar went viral for going to school using a ballpen that is made from wood and a rubber band! The still unnamed kid goes to school at Union Elementary School in Sta. Rita, Samar.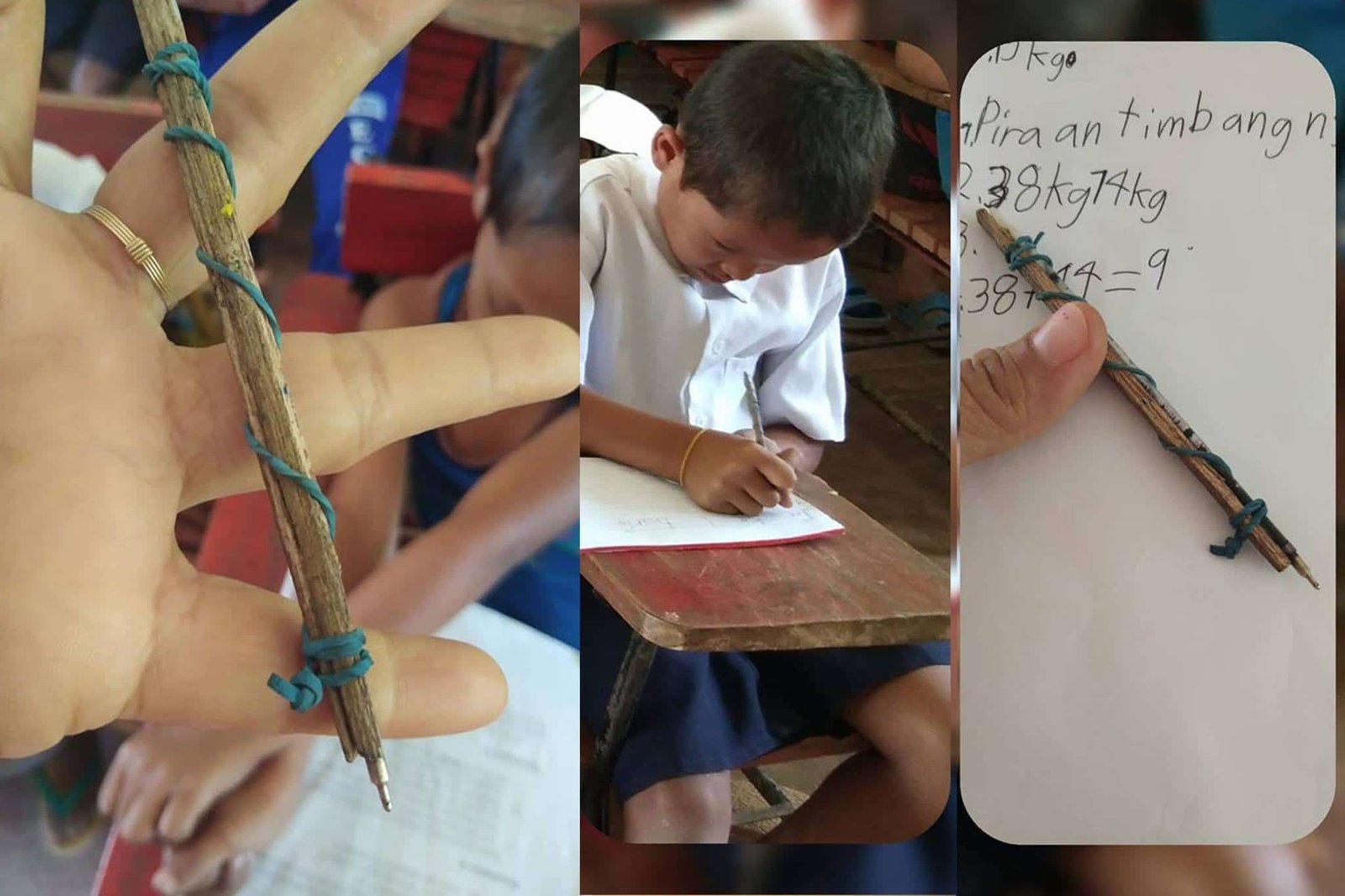 Photo credit: Moshi De Vera-Bacs / Facebook
In a post that has gone viral on Facebook and reshared over several channels, Teacher Maricor Baculanta with Facebook account Moshi De Vera-Bacs shared pictures of the kid who was writing intently on his armchair while using the makeshift ballpen.
Photo credit: Moshi De Vera-Bacs / Facebook
The teacher's heart broke over this kid's ballpen, knowing the boy certainly had no money to buy a real ballpen. While the thing does work because it has a ballpen refill in the middle, it was still heartbreaking to see that this kid had to use a piece of wood and rubber band to keep the wood together.
Teacher Maricor's post was reposted by The Philippine Star. As expected, many netizens were also touched by his plight, with quite a number offering to buy him ballpens and other school supplies. Obviously, he couldn't afford to buy a ballpen; thus, many netizens deduced that he also doesn't other much-needed school supplies.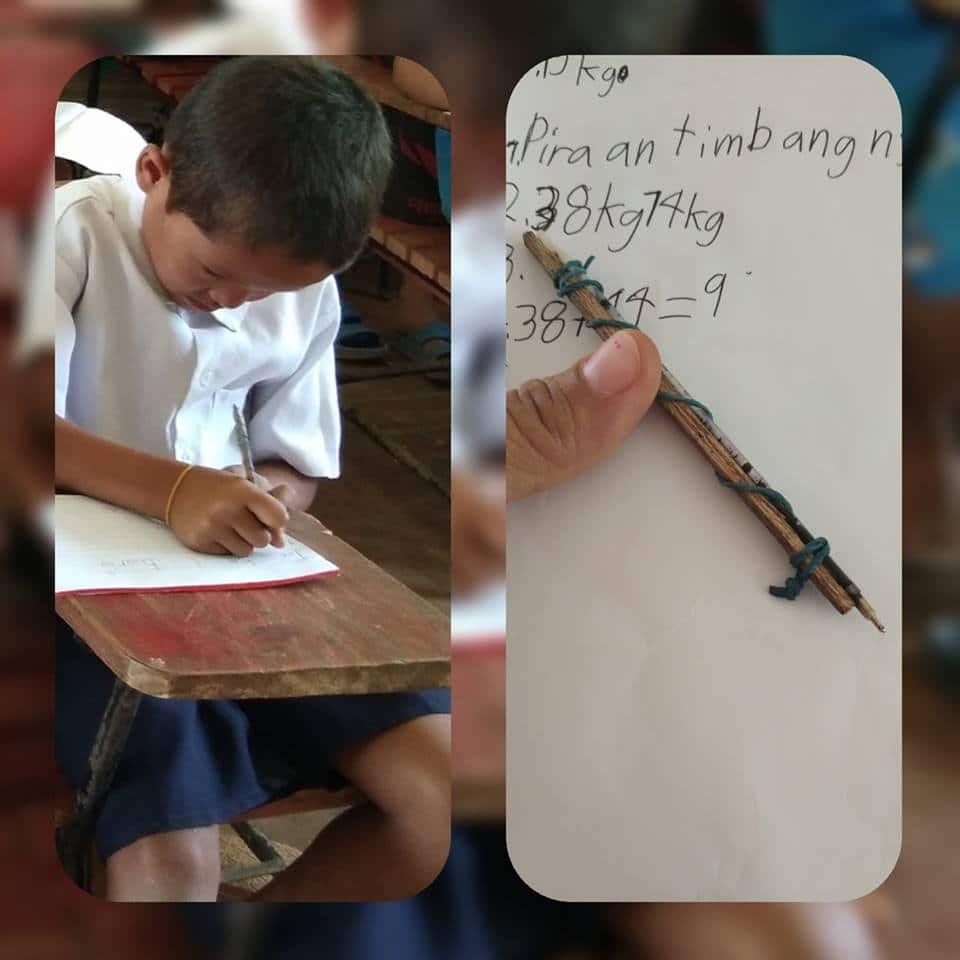 Photo credit: Moshi De Vera-Bacs / Facebook
"While other kids were lucky enough to have expensive school supplies and goes to expensive school and end up being a bully, there's this kid striving so hard to go to school even when their situation is so poor. This people deserve to have a free education, di yung ibang libreng pinapaaral tapos kapag hindi sinang.ayonan ang gobyerno, ayun ngra.rally parang mga spoiled brat!" netizen Joy Phoebe wrote.
Photo credit: Moshi De Vera-Bacs / Facebook
"Yung mga ganitong istorya yung mga worth sharing. It doesn't only imply how lucky enough we are that our parents can afford to buy us a ballpen for our convenience but also it shows so much contentment, hardwork and perseverance that inspires and touches so many peoples heart, this kid knows how to value his parents effort. MABUHAY KA! 💙," John Paul Pamorada Argamosa commented.
Other commenters shared that their kids don't know how to value their school supplies and they wished the children could learn a thing or two from this boy.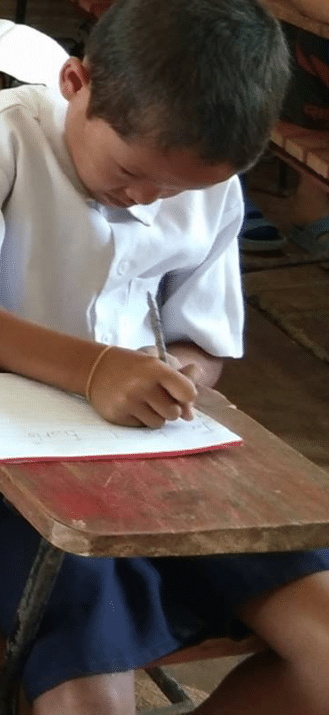 Photo credit: Moshi De Vera-Bacs / Facebook
"Ang anak ko 2x a week nagpapabili ng ballpen. D marunong mag ingat at magpahalaga ng gamit. Kaya lagi ko sinisermonan. Magtatapos nlng ang school year bili parin ng ballpen. D ko alam san napunta. Hay dios ko nakaka stress.. Samantalang ang batang ito nakakalungkot at nakakaawa tingnan. Walang maayos n ballpen.. How i wish sknya nlng sana napunta ung mga nawalang ballpen ng anak ko…" a netizen sadly wrote.
Kudos to you, kid! Keep up the good work and you'll surely find success in life.