He might just be 7 years old but Jhoncent Celicious is already such a responsible young boy that many netizens believe he is surely going to be successful in the future! He was recently pictured riding a jeep with a basin filled with packed vegetables at his feet. The photos went viral, sparking many comments about this young lad's determination.
It turned out that Jhoncent is the seventh of 10 kids. Sadly, his mother has asthma and goiter that often prevent her from working because she has trouble breathing. According to Susan Yuson, Jhoncent's mother, she did not teach her son to sell vegetables or even tell him to do it; but the kid had somehow thought about selling to help his family earn some cash.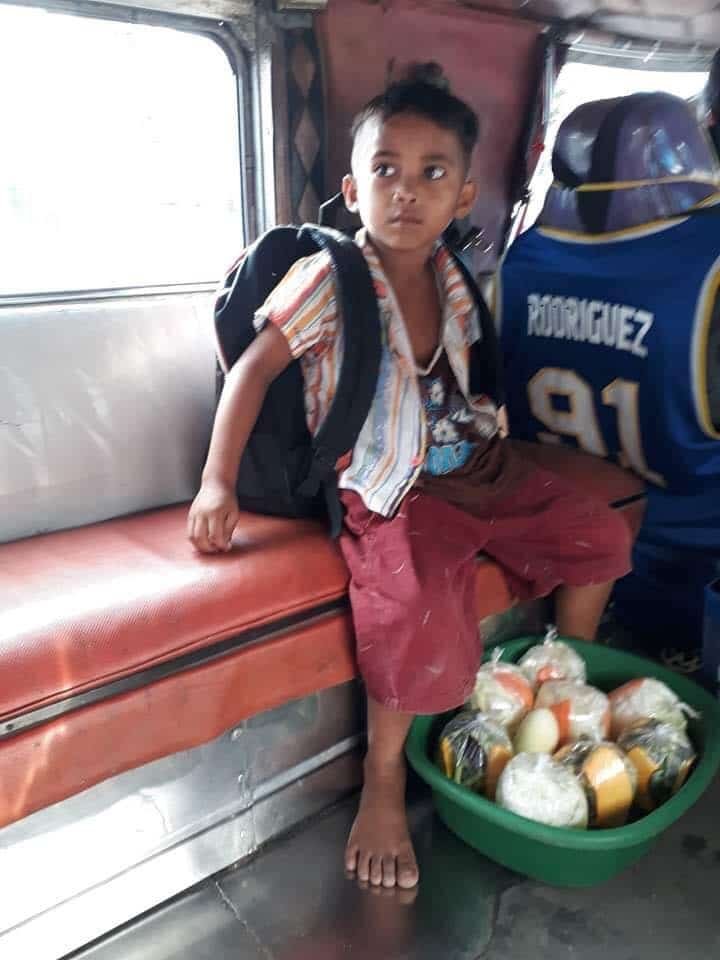 The kid admitted that he had actually been selling since he was 6 years old. While his parents didn't ask him to do it, the kid said he simply wanted to help so they can have some food.
Aside from his mother being unable to work, his dad also lost his job as driver last year. Apparently, the kid took it upon himself to find a job to support the family! This angered a lot of netizens who slammed Jhoncent's parents for letting him take the responsibility over something they should be doing themselves. The family lives in Brgy. M. Memije in General Mariano Alvarez, Cavite.
Many are also angry that these two can't even afford to feed their kids yet they still have so many. Susan said that the eldest is 15 years old and the youngest is 3 years old. Some of the kids such as Jhoncent go to school but the other older ones don't as they are the ones helping in the house and taking care of the younger kids! Tsk. Tsk.
Despite being angry at his family, many netizens praised Jhoncent for his perseverance and sense of responsibility even though he is still so young. While he spends his mornings in school, studying as a Grade 1 kid, he becomes a vendor during afternoons so he and his family can have food for dinner.
This video is so sad:
Grade 1 student, naglalako ng gulay at dyaryo sa kalsada para makatulong sa pamilya

GRADE 1 STUDENT, NAGLALAKO NG GULAY AT DYARYO SA KALSADA PARA MAKATULONG SA PAMILYAGrade 1 student sa umaga, tindero ng gulay sa hapon. Ganyan umiikot ang buhay ng 7-anyos na si Jhoncent mula sa Cavite. Dahil sa kahirapan ng buhay, pinili niyang magbanat ng buto para makatulong sa pamilya at matustusan ang pangangailangan sa eskuwelahan. #BanatButo #FrontRow

Posted by Front Row on Tuesday, 10 March 2020