A 4Ps beneficiary recently inspired everyone after becoming a topnotcher in the September 2019 Licensure Exam for Teachers (LET)!
In the Philippines, the government provides a conditional cash transfer program for the poorest of the poor through the Pantawid Pamilyang Pilipino Program (4Ps). This aims to help alleviate their lives by providing them money to send their kids to school, plus food allowance so the kids won't attend their classes with an empty stomach.
It is inspiring that many of these families make use of the money from 4Ps to improve their lives by sending the kids to school, as they are expected to do under the program.
The fourth of six siblings, Roxan Jane Pesalbon Arenas of Barangay Western Poblacion in San Francisco, a town in Camotes Islands, Cebu, inspired everyone after ranking tenth in the September 2019 LET. She garnered a score of 89.80 percent, based on the results released by the Professional Regulation Commission (PRC) last December 2019.
With her love for dealing with children, Roxan decided to take up Bachelor in Elementary Education, Major in Content Education, at the Cebu Technological University (CTU) campus in San Francisco.
This inspiring young woman shared that her father is a carpenter and her mother is a child development worker. They did not have a steady income. Her dad would only have money when they have projects. Thanks to the 4Ps, Roxan and her siblings were able to go to school. They did not waste the opportunity they were given – and even surpassed expectations when she became a topnotcher in the board exams!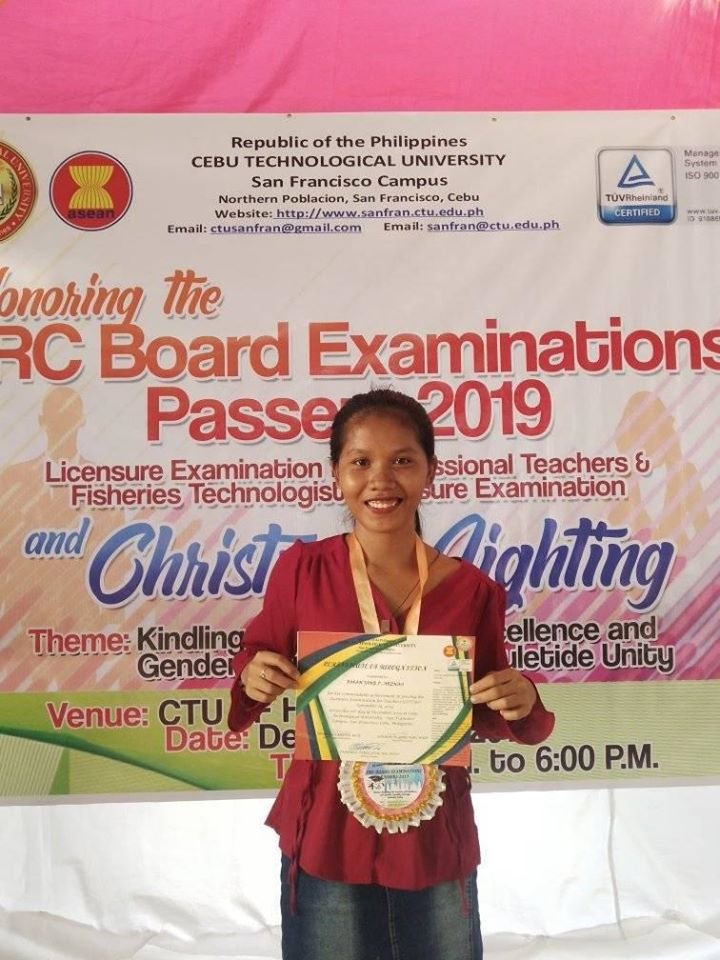 Roxan's younger two siblings, in Grades 11 and 4, remain among the monitored children under the 4Ps program. Now that she's a licensed professional teacher, Roxan plans to teach at her hometown. As board topnotcher and a 4Ps beneficiary, she is surely going to be an inspiration to many young minds to do their best in their studies and be just like her.
Congratulations, Ma'am Roxan!