As she graduates from Pangasinan National High School (PNHS), a 16-year-old girl shared photos of the 200 medals she received from the school for academic and extra-curricular achievements. Her feat went viral, with many netizens expressing amazement over what she was able to achieve.
A consistent honor student, April Christelle T. De Leon always ranked first from Grade 1 to Grade 10, receiving the honor of Valedictorian as she completed Grade 6 and from Grade 10. The young lady was also the only one from the school to receive the highest honors for obtaining a general average from 98 to 100.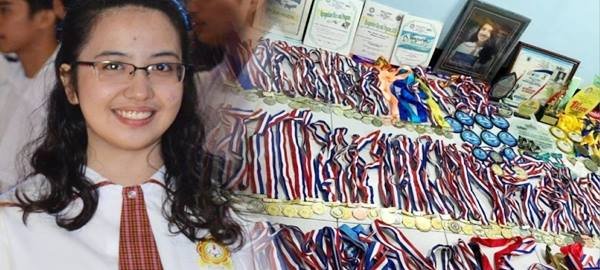 Photo credit: April Christelle De Leon / Facebook
April earned her medals from the school and from competing in the district. She also represented the school in various contests.
"I was able to represent my schools – Lingayen I Central School and Pangasinan National in national finals of different contests for nine times," April shared.
The young woman earned medals for Campus Journalism, Malikhaing Pagsulat, Science Quiz Bees, Math Quiz Bees, MTAP Challenge, and many other competitions. Aside from academic feats, she was also the Editor-in-Chief of two multi-awarded school organs in Pangasinan– The Gulf View (Pangasinan NHS) and The Sea Breeze (Lingayen I CS).
Photo credit: April Christelle De Leon / Facebook
Even in her elementary years, she was already the President of the Supreme Pupil Government in Lingayen I CS. In high school, she would become the External Vice President of their Supreme Student Government at PNHS.
But April is not just a brainy young lady, she's also a beauty! The young woman is the title holder in many pageants held in the school, becoming the Miss United Nations, Miss Earth, Lakambini ng Wika, and Miss A1.
Photo credit: April Christelle De Leon / Facebook
So, what are her plans after graduation? While will complete her Senior High School in Chicago, Illinois, April hopes to come back to the Philippines so she could take up BS Biology from the University of the Philippines (UP) as she dreams of becoming an 'Iskolar ng Bayan'. Then, she plans to proceed to Med School and become a doctor.
Congratulations and good luck, April!