Knowing that Filipino teachers are competent, especially in teaching the English language to young children, Thailand wants to hire Filipino teachers for the kingdom's "English for All" program.
Thailand Minister of Education Dr. Teerakiat Jareonsettasin has initiated the inter-agency meeting on the proposed Memorandum of Understanding (MOU) on the government-to-government hiring of Filipino teachers to Thailand, revealed PH Education Secretary Leonor Briones.
Photo credit: Leonor Magtolis Briones [CC BY-SA 4.0], via Wikimedia Commons
The Education Secretary said that there are actually a number of Filipino teachers already working in Thailand. Many of them went to visit the country on a tourist visa and eventually found a job there; however, such cases are much difficult to monitor.
"It's not a plan, it's not a policy proposal, it is an existing situation and if we can think, we can agree on a better way by which we can protect the Filipinos and at the same time, the Thai government, because it's not able to regulate and it's not able to keep track of all Filipinos who come," she explained.
To ensure the safety of these teachers and so they would get the proper benefits and privileges they are entitled as foreign workers in Thailand, the government-to-government hiring seeks to "improve and promote" the international professional exchanges between the two countries through the MOU.
The hiring program will be in accordance with the prevailing laws and regulations of the Philippines as well as the provisions of Thailand.
To uphold the teachers' welfare and protection, the hiring program will also work with several PH government agencies, particularly the Professional Regulation Commission (PRC), Commission on Higher Education (CHED),Philippine Overseas Employment Agency (POEA), Overseas Workers Welfare Agency (OWWA), Department of Labor and Employment (DOLE), and the Department of Foreign Affairs (DFA).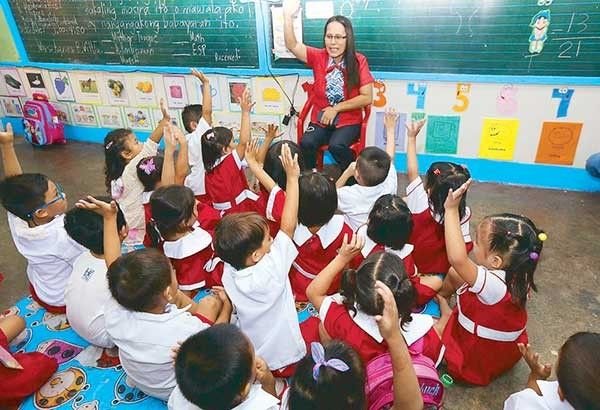 Photo credit: PhilStar
According to Secretary to the Minister of Education of Thailand M.L. Pariyada Diskul, their country has high regard for Filipino teachers.
"Your teachers are very diligent and blend in well with our culture," she said.

"We want to recruit Filipino teachers to be placed in the Eastern Economic Corridor (EEC) government schools, which are the three provinces in the eastern side of Bangkok to upgrade the English competencies of the children in that area. I hope this will be the beginning of many other projects to come."