Public school teachers in Central Visayas were able to raise nearly Php4 million for COVID-19 frontliners. For their kindness, the teachers were praised by netizens who wished that everyone else would be as generous and thoughtful as them.
It could not be denied that COVID-19 has greatly affected our lives, in one way or another. But what's so heartwarming is that despite the difficulties that everyone experienced, stories of hope and kindness amid the crisis continue to inspire us all.
Organized by the Regional Federation of Teachers Association (RTFA-7) involving the different schools divisions in Central Visayas, the fundraising campaign was done as a way to help the COVID-19 frontliners.
The teachers explained that this is also their way of sharing their blessings, particularly because they still continue to receive their full salaries despite not needing to report to work. Moreover, they were given a moratorium on their loans, with banks and lending companies allowing them to postpone their payments for a month so they can have enough money to spend during the enhanced community quarantine (ECQ).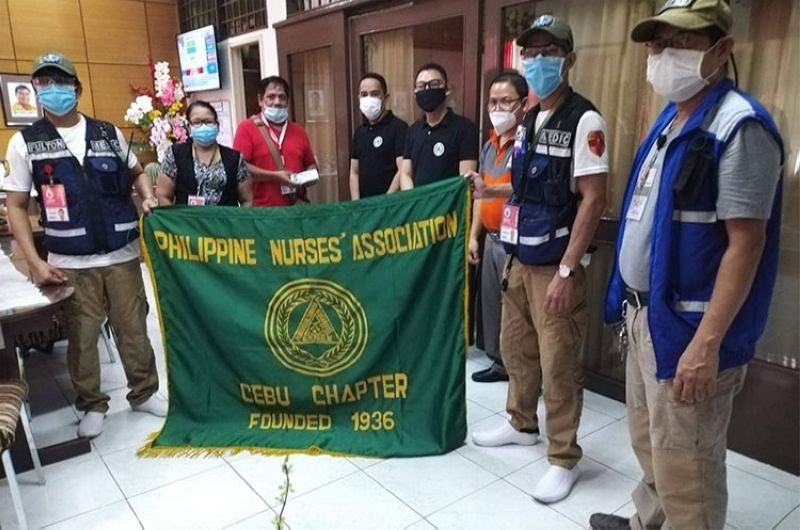 Photo credit: DepEd Cebu City Division / Sun Star Cebu
"We are close to hitting P4 million in contribution from the teachers in Region 7," DepEd 7 Director Salustiano Jimenez happily announced last April 21.
A total of Php200,000 cash assistance has been turned over to the Philippine Nurses Association (PNA)-Cebu Chapter by the Cebu City Public Schools Teachers Association. This is intended for frontliners at public hospitals like Cebu City Medical Center, St. Anthony Mother and Child Hospital, and Vicente Sotto Memorial Medical Center (VSMMC).
"It started as a challenge for the Cebu City Division teachers to share their blessings to our frontliners. Our target was only Php100,000, but from the Cebu City Division alone, we were able to raise a total of around Php600,000," explained Cebu City Public Schools Teachers Association president Remus Mariñas.
He added that they proposed the same initiative to DepEd 7. This was quickly approved by Jimenez.
Photo credit: DepEd Cebu City Division / Sun Star Cebu
While Cebu City teachers raised around Php600,000 from the 6,000 teachers of the division, DepEd Mandaue City Division was able to raise around Php420,000. The donation from the Mandaue City division will go to Eversley Childs Sanitarium and General Hospital as well as VSMMC.
Part of the funds also went to food packs for school guards and utility workers of all schools in Cebu City, even those in remote areas, Sun Star Cebu reported.
The teachers are also planning to use the remaining funds to areas that are placed under lockdown: sitios Zapatera in Barangay Luz and sitio Sto. Niño in Barangay Labangon. Any excess funds will go to providing assistance to students' families who are affected by the lockdown.