The Department of Education (DepEd) recently announced that SY 2020-2021 will officially start on August 24, 2020. This was met with anger across many sectors, particularly because the COVID-19 pandemic continues to rage across the country and many parts of the world.
Cases continue to rise, particularly in Metro Manila and Cebu, leading many to call on DepEd and the government to prioritize the safety of learners and teachers before actually resuming classes.
The DepEd assures parents that the upcoming school year won't be the same as previous ones in that they are planning on a multi-modal approach to education. This means that students don't have to be physically in school to be in school.
\
Photo credit: IFRC
Instead, they can work on their lessons using laptops and gadgets for online learning. Those who can't afford to take online lessons might be provided with lessons on TV and radio, something that many parents don't think would be effective to most students at all!
"The planned opening of classes by August, whether physical or online should consider both the safety of the learners, teachers, and everyone involved in school operation as well as the accessibility of children's family to needed gadgets and internet connectivity," said Benjo Basas, the national chairperson of Teachers' Dignity Coalition (TDC).

"The government may need to spend for the required technology to enable the distant learning. Other modes of delivery such as radio and television guided by learning modules may also be used."
But the TDC does not only understand that this could be a huge difficulty for parents and learnerss but also knows that it would be difficult for teachers to properly do the lessons via online learning. They would have to develop online modules, webinars, and create online forms.
"Clearly, the situation does not allow our teachers and the people in general to focus on such kind of activities," Basas added.
Indeed, DepEd believes that the students, parents, and teachers can adapt well with the multi-modal type of learning but this faces a lot of challenges and could lead to many children getting left behind in their lessons.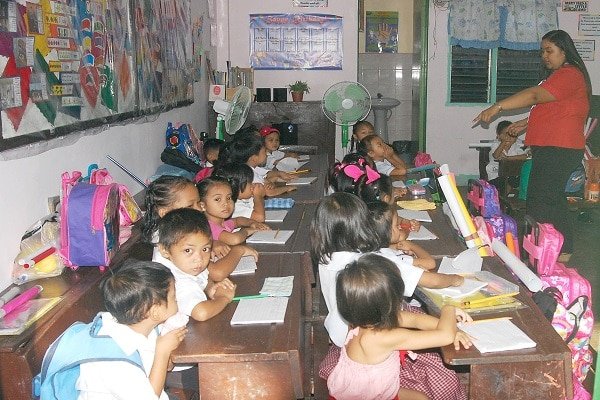 Photo credit: Canadian Inquirer
Will the children really learn something from these learning options, particularly if their parents can't help them out? Many parents are also alarmed that the students will all 'pass' this year without learning anything from their online learning options and could reach a higher grade/year level without truly learning what needs to be learned.
And if students have to physically be in school, many are also concerned that the kids could still contract the virus despite the plans to only limit class sizes to 20 so that social distancing will be imposed…