It is a sad reality in life that many people are actually born into poor families; families who could barely feed all the kids a good meal three times a day and send them to school with proper uniform and enough money to meet their needs. But it is inspiring that many people are able to overcome these challenges by finding ways to cope with their situation.
A Grade 5 pupil in General Santos City, southern Philippines went viral for bravely going to an office to apply for a cleaning job so he could earn money for a school project. His parents could not afford to pay for the school project, but instead of begging, Kervy James Villarejo went to Charter Ping An Insurance Corporation – GenSan branch to apply for a job. At the time, Kervy studies at Jose Catolico Sr. Elementary School.
Surprised over the boy's bravery and determination, the office workers asked why he was applying for a job. When he told them he needed money for a school project, he earned the office workers' admiration. One of them, Chriszel S. Vicente, shared his photos on Facebook where it went viral.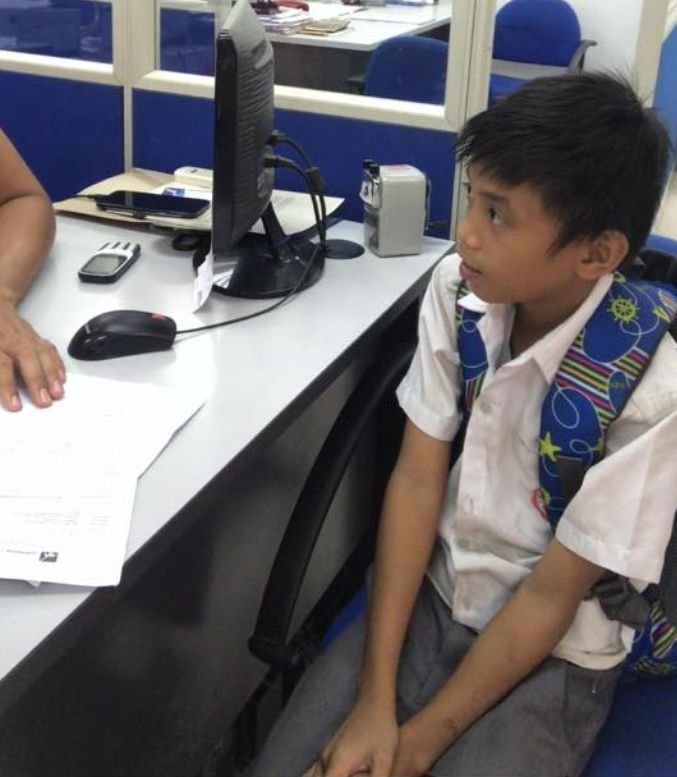 Seeing that the kid was determined to earn money for his school project, the office workers contributed what they could to give him something so he wouldn't have to find a job to get it done. Overwhelmed by their kindness, the teary-eyed kid promised to come back and show them his school project after he completes making it.
According to Chriszel, she's a single mom. Thus, it pains her a lot to see this kid trying his best to earn money for school, but she admired him for not giving up.
Soon enough, a lot of people offered to help provide him with some extra money for other school needs. And while it's true that there are so many other kids out there who are like him, in need of money for school, most people are more willing to help those who first try their best to solve their situation in an honest, honorable manner. Good luck, kid!