Education amid the COVID-19 crisis has become a subject of debate, particularly after the Department of Education (DepEd) announced that the classes will begin on August 24, 2020, despite the high number of active COVID-19 cases still being experienced in the country.
While the DepEd announced that the new school year will probably be more of distance learning and online education rather than face-to-face interactions, parents and teachers express apprehension over this plan.
Photo credit: 24 Oras / YouTube
Femme Prado, a teacher at Katiguesen Elementary School in Kibucay, Maguindanao, said that online school will be a difficult challenge in their area. There is no stable internet connection in the area. But that's not the only problem that the students and teachers will face because the town has limited supply of electricity.
"Wala kami doong internet connection. Kahit sa kuryente, isa rin 'yun sa mahirap. Kung mag-o-online classes po ay mahihirapan po talaga ang mga bata," explained Prado.
Prado added that most of the students don't have their own smartphones or computers. How the online classes will be conducted in the area remains a questionable challenge.
Photo credit: 24 Oras / YouTube
Prado is not alone in these sentiments. Another teacher, Minerva Caspe of Obong Elemetary School in Can-Avid, Eastern Samar, also expressed apprehension over DepEd's plans.
According to Caspe, farming is the primary source of income in the area. Buying gadgets and applying for an internet connection are the least of the families' priorities! Should the DepEd insist on doing online classes, most or even all of the students in the area will be left behind.
Some teachers believe that it would be better to provide the students with printed handouts and learning modules, but that could also be costly and too difficult to implement as well.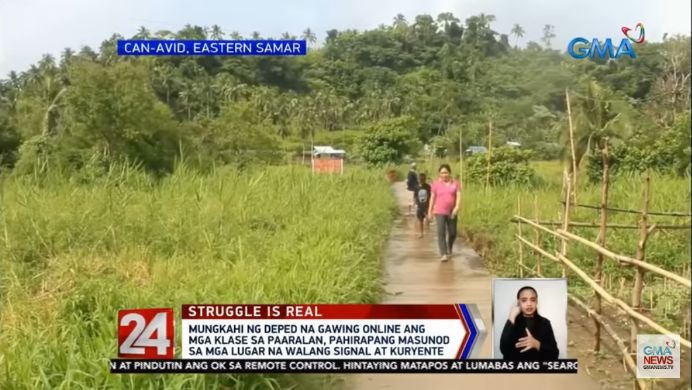 Photo credit: 24 Oras / YouTube
DepEd Secretary Leonor Briones said that the department understands the worries that parents and teachers have put forward, particularly regarding gadgets and internet connections, but requests everyone to cooperate and have open minds to give distance learning a chance.
Trainings, seminars, and information campaigns will be done in the next months to prepare everyone for distance learning and online education, Briones added.
Watch the report here: