It's only a month from now until the 2018-2019 school year ends. For teachers, it's high time that they review the number of class days per month before finalizing the total number of days their students were present for the last ten months. With that, we are publishing the number of class days per month based on DepEd Order No.25, s.2018 also known as the DepEd School Calendar for School Year 2018-2019.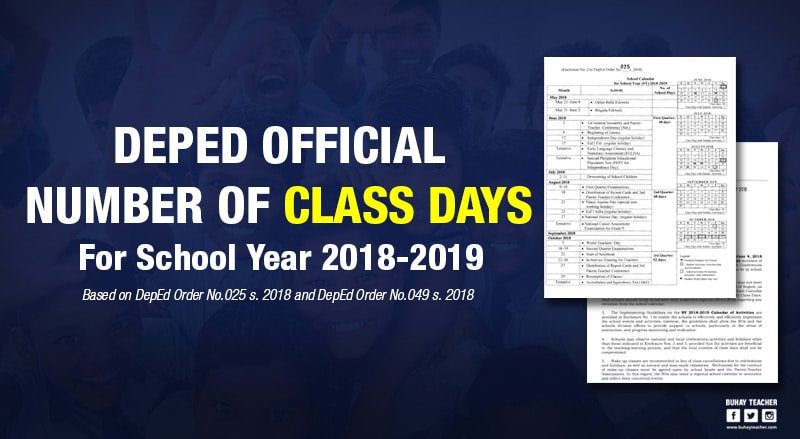 According to Enclosure No. 1 of DepEd Order No.025 s. 2018, the school year 2018-2019 shall formally open on Monday, June 4, 2018 and shall end on Friday, April 5, It shall consist of 208 school days inclusive of the five-day In­ Service Training and three days of Parent-Teacher Conferences (PTC).
Learners are also expected to be in school for a total of 200 class days for this school year. To ensure quality in the school operation and actual teaching learning, the 187-day contact time for teachers and learners is non-negotiable. The physical presence of school heads in schools shall also be enforced.
Here are the DepEd number of class days per month for the SY 2018-2019:
UPDATED ON MARCH 15, 2019
June – 18 class days
July – 22 class days
August – 21 class days (DepEd Order No.34, s. 2018)
September – 20 class days
October – 18 class days
November – 19 class days
December – 11 class days (As amended by DepEd Order No.049 s. 2018)
January – 21 class days (DepEd Memorandum No. 193, s.2018)
February – 18 class days (Presidential Proclamation No.555)
March 21 – class days
April – 5 class days
TOTAL NUMBER OF CLASS DAYS: 194
---
Other notable information stated by the DepEd Order No.025 s. 2018:
Summer/remedial classes shall begin on Monday, April  15, 2019 and end on Friday, May 24, 2019
Furthermore, in preparation for the opening of classes for SY 2019-2020, the schools shall conduct the following activities:
Early Registration of learners, beginning on Saturday, January 26, 2019 in the schools where they wish to study;
Brigada Eskwela from May 13 to 17, 2019 to enable the community and the school to prepare their facilities before the start of another school year;
Oplan Balik Eskwela from May 20 to May 31, 2019 to facilitate the enrolment of learners; and
In-Service Training (INSET) activities for teachers from May 27 to May 31, 2019, a week before the opening of classes.
Sources: DepEd Order No.025 s. 2018 and DepEd Order No.049 s. 2018