Senate Minority Leader Franklin Drilon has filed Senate Bill 19 seeking to increase the monthly entry-level salary of public school teachers from P20,754 to at least P30, 000.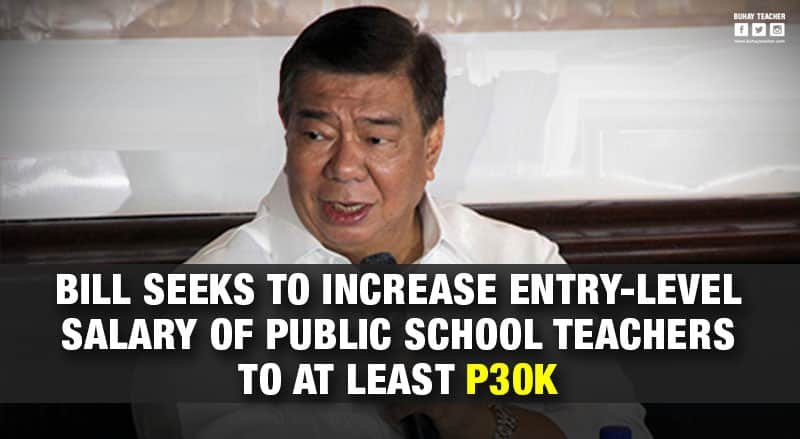 In his explanatory note, Drilon said, "We should provide teachers with the right incentives to encourage them to remain in the noblest profession of educating and molding our youth to become productive citizens of this country."
The said bill also aims to increase the pay for entry level teachers in state universities and colleges to not less than P31,000 a month.
Furthermore, Sen. Drilon's bill will also adjust the salaries of teachers who occupy higher positions. In his note, Drilon also stressed out that the salary of educators remain lower compared to the salaries of other professionals amidst the fact the the education sector receives the largest share from the annual national budget.
Senate Bill 19 is just one of the few that were already filed in the congress and in the senate. Earlier this month, Sen. Sonny Angara also filed a bill which aims to upgrade the minimum salary of public school teachers from salary grade 11 to salary grade 19. Other lawmakers who also filed bills pertaining to the salary increase or additional benefits of teachers are Sen. Nancy Binay and Sen. Sherwin Gatchilian.
The call for the increase the salary of 830,000 teachers has long been voiced out by different sectors such as teachers, teacher party lists, and even lawmakers alike.
Earlier this year, President Rodrigo R. Duterte vowed to increase the salary of teachers as his mother was also a former teacher. He also assured the teachers of the increase in their pay but asked them to kindly wait for its approval. In his efforts, Duterte told his economic team to work with DepEd Secretary Leonor Briones in finding ways on realizing the long and impending increase in the salary of public school teachers.
Source: PhilStar