The Commission on Audit (COA) recently slammed the Department of Education (DepEd) after discovering that there are over 3.4 million books and a huge number of learning materials just idling at the agency's warehouses – and these cost the government at least Php113 million!
The books and learning materials were intended for distribution to public schools across the country and have been procured as far back as 2014 but were simply stocked and idling in these warehouses.
While there are many public schools across the country struggling with lack of learning materials, stacks of these were just rotting away in ill-maintained warehouses of the Education Department.
Based on the 2018 annual audit report on DepEd, 440,591 of the idle materials were procured in 2014, 1.6 million were procured in 2015, 1.2 million in 2016, and 128,111 in 2017. These amounted to Php113 million.
Of the buffer stocks the DepEd bought from 2014 to 2016, records showed that only 15.77% have been released. Most of these were sent as replacement to lost or damaged textbooks in typhoon-damaged areas.
Photo credit: PhilStar
According to the COA officials, procurement of these idling, unused books fall under Irregular, Unnecessary, Excessive, Extravagant and Unconscionable expenditures.
COA is now asking DepEd to provide an explanation why these learning materials remain undistributed. The state auditors also want DepEd management to provide a valid reason why it won't be issued a Notice of Disallowance for wasting government resources on these books.
Dilapidated Warehouses?
The COA report also stated that many of the books are stored in bad conditions inside dilapidated warehouses with no electricity due to non-payment of bills.
"The warehouses are in very poor condition. These are not well maintained, are dirty, and full of dust and spider webs. The warehouses are not well ventilated due to absence of exhaust fans or insulation materials that will prevent fire," COA reported.
What's worse, security around these warehouses is scarce, with only two security guards assigned to the area.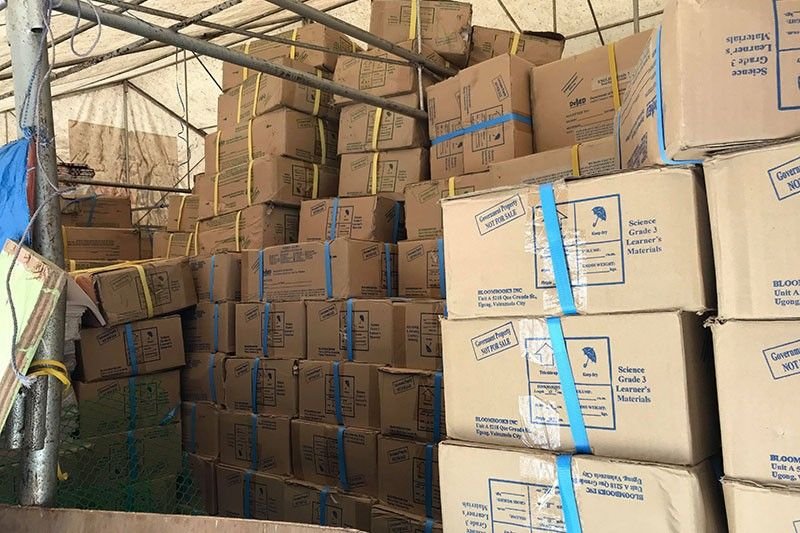 [Boxes of books and learning materials found at Department of Education in Barangay Lahug, Cebu City; Photo credit:
The Freeman
]
Moreover, no DepEd personnel are in the area to keep the place clean and organized. In fact, there is no proper inventory of the stocks inside the buildings.
"As per inquiry with the warehouseman, the piling, stacking, and pulling out of stocks are done manually due to lack of the proper tools and equipment," the COA report added.
In response, the DepEd management promised to evaluate its buffer stocks and revisit existing guidelines on procurement of books and learning materials to prevent this from happening again.